Delicious food and an idea for world peace at Jerusalem Kitchen
LEO's Eats with Robin Garr
Jerusalem Kitchen's

chakchouka

, three eggs simmered in spicy tomato sauce.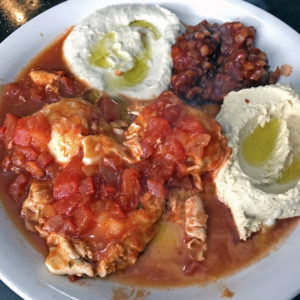 I don't know anybody who thinks that the world is in great shape nowadays, and all the saber-rattling going on over Iran and North Korea is just the beginning. Things haven't changed much since the 1960s, when the Kingston Trio famously sang in The Merry Minuet, "
The whole world is festering with unhappy souls. The French hate the Germans. The Germans hate the Poles. Italians hate Yugoslavs. South Africans hate the Dutch … and I don't like
anybody
very much!
"
And that's before we even start talking about the tensions that tear at Southwest Asia, that region of seemingly never-ending wars: Iraq and Syria and Lebanon and Israel and Palestine, oh my!
Will the world ever know peace in our time? I've got my doubts. But, my imagination fired with a delicious, filling meal at Jerusalem Kitchen, I've got an idea: What if we all tried just a little harder to get to know our neighbors through food?
I think it might work. Palestinians and Israelis may fight, or at least their governments do, but they all love hummus and
baba ghanoug
and
chakchouka
and
shawarma
and pitas and all manner of other good stuff that people enjoy all through the eastern end of the Mediterranean basin. Even gyros, which we'll bet you thought were Greek.
I can't think of a better way to adjust our attitudes about the whole region and its friendly people than to sit down and enjoy a good meal together, getting to know each other's food. If not now, then when? If not us, then whom? Let's start this thing with a happy trek out to Jerusalem Kitchen for a filling and affordable lunch or dinner!
Jerusalem Kitchen is the current incarnation of Little Jerusalem Cafe, having moved to Okolona from Iroquois Manor last winter. It is larger than its predecessor, with an extensive menu of much the same excellent, value-priced fare. It's in a rather plain white building just off Preston Highway opposite Southern High School. ...
Read the full review on LouisvilleHotBytes,
http://www.louisvillehotbytes.com/delic ... em-kitchen
You'll also find this review in LEO Weekly's Food & Drink section today.
http://www.leoweekly.com/category/food-drink/
Jerusalem Kitchen
4313 St. Rita Drive
614-6465
https://facebook.com/JerusalemKitchen
Robin Garr's rating: 85 points