Fine drinks meet fun plates at Red Herring
LEO's Eats with Robin Garr
Texas brisket at Red Herring.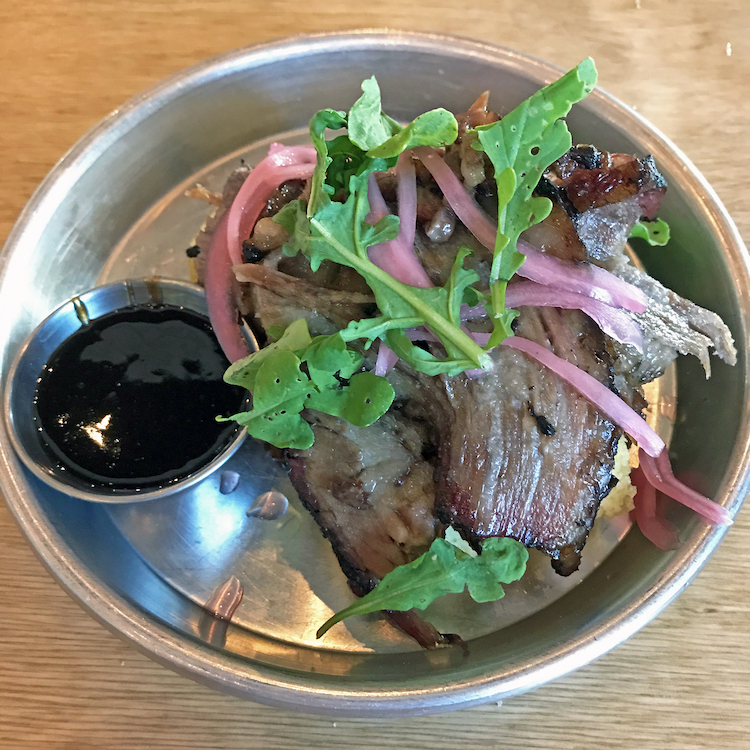 After many years standing vacant at the top of the hill in Clifton, prompting strollers on the Avenue to muse, "Boy, that would make a great restaurant," the historic white-brick Hilltop Theater has taken its place on the city's dining scene as Red Herring Cocktail Lounge & Kitchen.
I've been in to Red Herring a couple of times this week, for lunch and again for dinner, and I can see making it a regular hangout, whether I'm in the mood for a drink, a nosh, or a little of both.
Beautifully renovated within, the cavernous former theater space, at least 25 feet high, now glows in tones of pale blue, yellow and white, with a large bar as centerpiece, an airy balcony and open stairs affording plenty of additional space above. Tiny Edison-style bulbs hang at varied levels like a galaxy. A new patio alongside allows al fresco dining, and provides a paved level sidewalk for easy access from parking at the rear.
Considering co-owner Brett Davis' stature as a master sommelier, you might expect a more massive wine list than the two dozen vinous options, but they are as thoughtfully chosen and diverse. Ditto for the beer list, a concise compilation of mostly fascinating draft and bottled beers from Louisville and around the world. It's in the realm of mixology, though, that Red Herring's bar program lifts off. By its own definition, "We are a cocktail lounge with a menu of 100 classic cocktails, original mixed drinks, adult frozen concoctions, wine and beer paired with pub food."
I'd say the fare is far more than pub food, but I'll get to that. ...
Read the full review on LouisvilleHotBytes,
http://www.louisvillehotbytes.com/fine- ... ed-herring
You'll also find this review in LEO Weekly's Food & Drink section today.
http://www.leoweekly.com/category/food-drink/
Red Herring Cocktail Lounge & Kitchen
1757 Frankfort Ave.
907-3800
http://redherringlou.com
https://facebook.com/RedHerringLou
https://instagram.com/redherringlou
Robin Garr's rating: 91 points