Ngon Appétit — worlds of delicious II
LEO's Eats with Robin Garr
Beef pho at Ngon Appétit.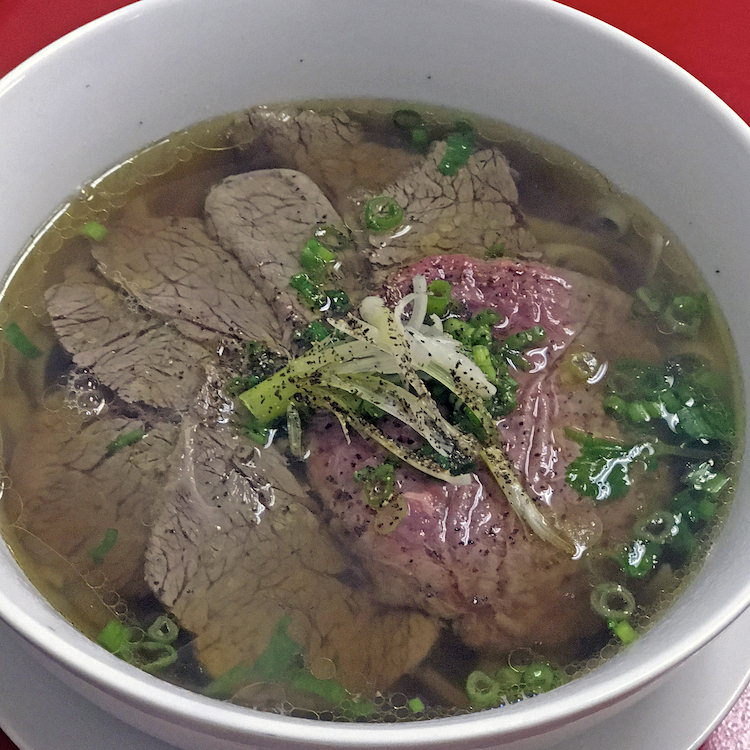 I'm afraid LEO Weekly's Taste Bud writer, Kevin Gibson, who wrote fondly of Sam's Hot Dog stand on Lower Brownsboro in 2015, is going to be sorry to learn that Sam's has gone away. I expect his regret will be tempered, though, as it is for us all, by the recent arrival of Ngon Appétit, successor to the late and lamented Four Sisters, serving up Vietnamese-French crêpes, banh mi, and a worthy pho.
Pho and ramen are getting to be as common as chili over spaghetti in Louisville these days, and Ngon Appétit's take on beef pho ($9.95) is a contender. It was built on an indulgently rich beef broth that simmers for 10 hours, filled with long, soft flat rice noodles and topped with a prettily arranged circle of rare-pink beef rounds arranged in a flower pattern, with a pile of chopped green onion in one corner. We would have liked a little more cilantro than the random leaf, but that's picky. The beef was flavorful, with a tender, textured mouthfeel from being pounded thin. ...
Read the full review on LouisvilleHotBytes,
http://www.louisvillehotbytes.com/ngon- ... licious-ii
You'll also find this review in LEO Weekly's Food & Drink section today.
http://www.leoweekly.com/category/food-drink/
Ngon Appétit
1991 Brownsboro Road
822-3377
ngonappetit.com
facebook.com/ngonappetit
Robin Garr's rating: 88 points