Bodega mi Sueño — worlds of delicious I
LEO's Eats with Robin Garr
Lechon (Cuban roast pork) at Bodega mi Sueño.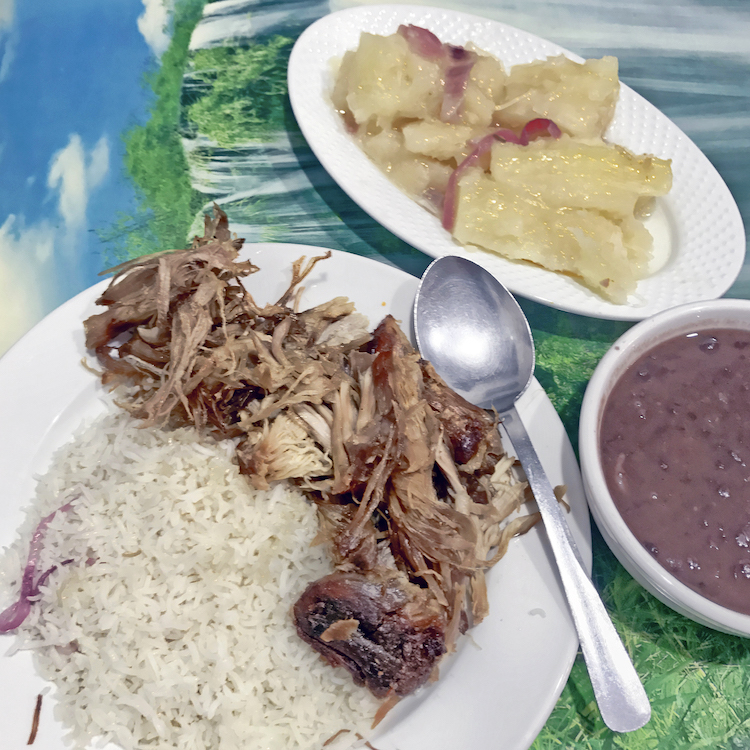 Well, here we are again, another week that finds me torn between two new spots that feature cheap, delicious world cuisine: Bodega mi Sueño in West Buechel dishes out mouth-watering Cuban fare in oversize portions in the casual setting of a traditional bodega. Ngon Appétit in Clifton Heights (
review posted separately
) offers a short but tasty list of Vietnamese fare with a hint of the French accent that a colonial empire left behind.
Let's go to
both
!
But first, a quick pronunciation lesson! "Sueño," pronounced "Sway-n'yo," means "dream." "Ngon" is a stickier wicket for English speakers to work our tongues around. With a little mentoring from the friendly woman behind the counter, I think I got it down pat: Say the word "sing." Hold on to the "ng" sound, and segue it into the "on" bit. Too hard? Maybe you'd better go ask her for yourself. "Ngon" in Vietnamese means "tasty," and it rhymes with "bon," so tack on the "appétit" and you've got a Vietnamese-French pun.
The big-city bodega is an urban institution, a Latinx mini-grocery, a busy, crowded shop with a bakery counter and a cafeteria line in the back. You'll find one on just about every street corner in Spanish-speaking neighborhoods in NYC or LA or Miami. In Louisville, Bodega mi Sueño and other bodegas have evolved to meet the suburban habitat of Louisville's Latinx diaspora. Rather than being in an old urban storefront, Bodega mi Sueño is in a shiny shopping center space, just down the way from Target and Walmart and the new Costco.
The food is really tasty homemade Cuban, and they scoop it up in huge portions. The backlighted menu board over the cafeteria line offers a dozen dishes, with photos to assist the Spanish-impaired, all for around $5. Just about everyone seems to choose the completa, though, a huge combination platter with your choice of main dish for $9.99.  The staff is friendly. English is very limited, but a little Spanglish and a lot of pointing will get you what you need. ...
Read the full review on LouisvilleHotBytes,
http://www.louisvillehotbytes.com/bodeg ... -delicious
You'll also find this review in LEO Weekly's Food & Drink section today.
http://www.leoweekly.com/category/food-drink/
Bodega mi Sueño
3646 Mall Road
454-8334
https://facebook.com/BodegaMiSueno
Robin Garr's rating: 85 points