Lydia House reflects its changing neighborhood
LEO's Eats with Robin Garr
Kimchi melt sandwich at Lydia House.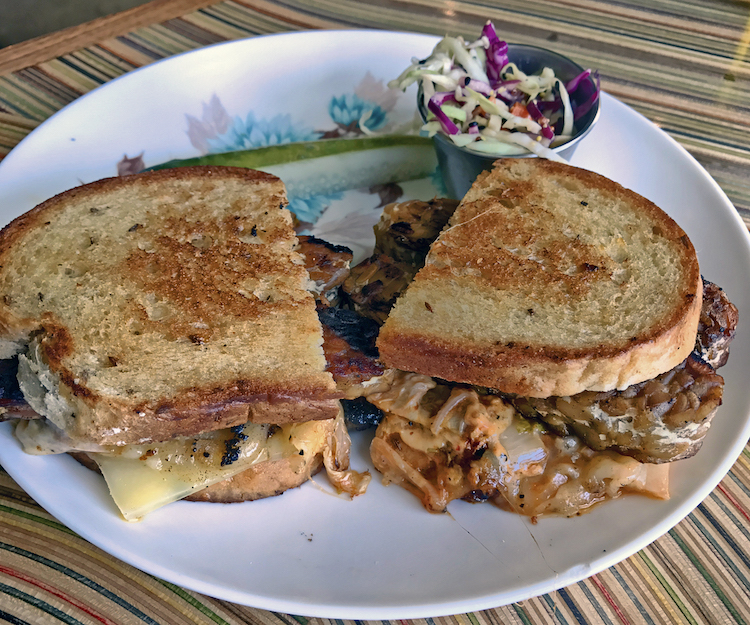 If you held a magical mystery mirror up to Louisville's historic Germantown-Schnitzelburg neighborhood in hope of perceiving what's going on in this changing community, the chances are the image that first appeared would be Lydia House.
Why Lydia House? Consider its history. The sturdy two-story frame building was born more than a century ago as a typical urban corner store with room for the owner's family to live upstairs. It became Flabby's (later Flabby Devine's, then Flabby's Schnitzelburg), by midcentury, and so it remained for some 60 years, a classic Germantown saloon that seemed a moment caught in time. Until it wasn't. It abruptly closed in 2010, briefly reopened shortly thereafter under new ownership, but just wasn't the same. Even its famous rolled oyster, replicated without the secret family recipe, failed to satisfy.
Left vacant for a year or two, the old building was showing signs of deterioration until new owners resurrected it in 2015 as Lydia House. Much like an old Germantown shotgun house purchased, repaired and flipped to new owners, Lydia House is still a lot like Flabby's. but - sort of like the neighborhood itself - it adds a distinctly hipster tone that accents but doesn't entirely cover up the old German beer joint vibe.
How does this work out in real life? Walk into the main room at Lydia House and you won't think much has changed, at first. It's still a long, rather dark room with light red and dark-brown checkerboard floor tiles, cozily spaced tables and the familiar old bar running the length of the room. The big wooden "Flabby's" sign that once welcomed visitors above the front door now enjoys pride of place behind the bar.
But take another look and you'll find that the decor of lighted beer advertising signs and old black-and-white neighborhood photos has been replaced by large, framed outsider art. Undraped tables, every one different in style, add wacky charm with bright colors. There's also an attractive patio out back for al fresco dining.
The blackboards that once listed daily specials and pitcher prices for Bud, Coors and PBR now bear a well-chosen assortment of interesting craft beers and fancy Belgian brews on draft. There are also short but interesting and diverse liquor and cocktail lists. (Neighborhood old-timers need not fear, though, as the old standards – listed as "cheap beer" – are still available in ice-cold cans.)
Now check the menu, and you'll find we aren't in Flabby's any more, Toto. ...
Read the full review on LouisvilleHotBytes,
http://www.louisvillehotbytes.com/lydia ... ighborhood
You'll also find this review in LEO Weekly's Food & Drink section today.
http://www.leoweekly.com/category/food-drink/
Lydia House
1101 Lydia St.
718-6002
http://lydiahouse.us
https://facebook.com/lydiahouse1101
https://www.instagram.com/lydia.house/
Robin Garr's rating: 87 points