Indian at Himalayan makes us happy
LEO's Eats with Robin Garr
Aloo matter, Himalayan-style potatoes and peas at Himalayan Restaurant.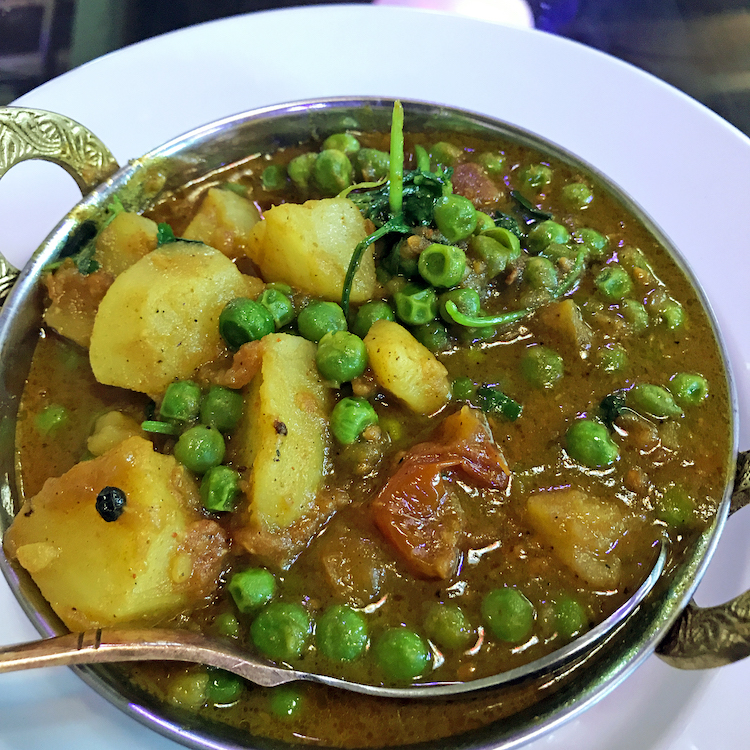 I can't think of a better way to get my attention than to tell me about a new eatery that serves world cuisine. Clue me in, and I'll be there before you can drop a Salvadorian pupusa. Heck, even another Thai, Korean, Indian or Mexican joint will get my motor running.
So when I learned that a new Indian place, Himalayan Restaurant, had opened on Bardstown Road at virtually the same time as El Taco Luchador launched its new St. Matthews branch, I started spinning like a falling cat with buttered toast strapped to his back.
Flip a coin? Nah, let's do both. I'm tough. I can handle an Indian repast and a taco lunch during the same week, right?
Himalayan Restaurant popped up in mid-August in the glitzy black-marble and glass venue that had housed Brownie's The Shed, and there hasn't been much change in its upscale sports-bar look; even the framed pictures of the Green Bay Packers' Lambeau Field and sports heroes' portraits remain on the walls.
The food, though, is all new, and it's pretty good Indian cuisine, worth a return trip. Despite the name of the restaurant, which was endowed by its Nepalese-immigrant owner, the cuisine is not Himalayan, mostly, but familiar Indian fare, leavened by the presence of momos (Nepal's and Tibet's answer to potstickers) and a couple of Indian dishes noted as Himalayan style. ...
Himalayan Restaurant
1578 Bardstown Road
708-1477
http://himalayanlouisville.com
https://facebook.com/BardstownHimalayan
Robin Garr's rating: 80 points
Read the full review on LouisvilleHotBytes,
http://www.louisvillehotbytes.com/india ... s-us-happy
You'll also find this review in LEO Weekly's Food & Drink section today.
http://www.leoweekly.com/category/food-drink/
The referenced El Taco Luchador review mentioned above starts here:
viewtopic.php?f=1&t=24825