Bye bye, Meridian Cafe: Bienvenido a El Taco Luchador
LEO's Eats with Robin Garr
Elote callejero at El Taco Luchador St. Matthews.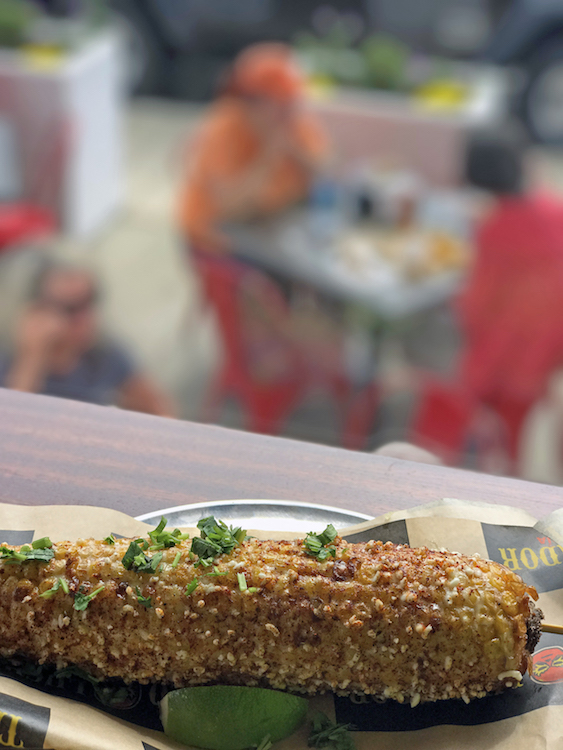 Meanwhile, over in St. Matthews, the old Meridian Cafe has been transformed and taken South of the Border in a substantial remake. The old house stands revealed in bold red-and-white colors and large murals, no longer concealed behind two large shade trees that had to be removed for safety and visibility, manager Rick Moir said.
In the aftermath of controversy over a bank's removal of a huge oak tree on Shelbyville Road nearby, some neighbors were prepared to take up pitchforks and torches when the cafe's two old trees came down. But it wasn't a matter of choice, Moir explained on the LouisvilleHotBytes forum. One large tree was dead, the other ailing and likely to fall, and the trees and large bushes contributed to many near-wrecks.
You can certainly see it now. No longer hidden a block away from the St. Matthews strip, it's now boldly visible, inviting visitors off the main drag. They're pouring in, too. Long lines extended outside the front door at noon on a Tuesday, and counter staff was working hard to keep up. ...
Read the full review on LouisvilleHotBytes,
http://www.louisvillehotbytes.com/bye-b ... o-luchador
You'll also find this review in LEO Weekly's Food & Drink section today.
http://www.leoweekly.com/category/food-drink/
El Taco Luchador St Matthews
112 Meridian Ave.
709-5154
http://el-taco-luchador.com
https://facebook.com/EltacoluchadorStMatts
Robin Garr's rating: 87 points