Mojito may not have invented the small plate, but they improved it
LEO's Eats with Robin Garr
Mojito's chuleta de cordero, grilled lamb chops with piquillo hummus.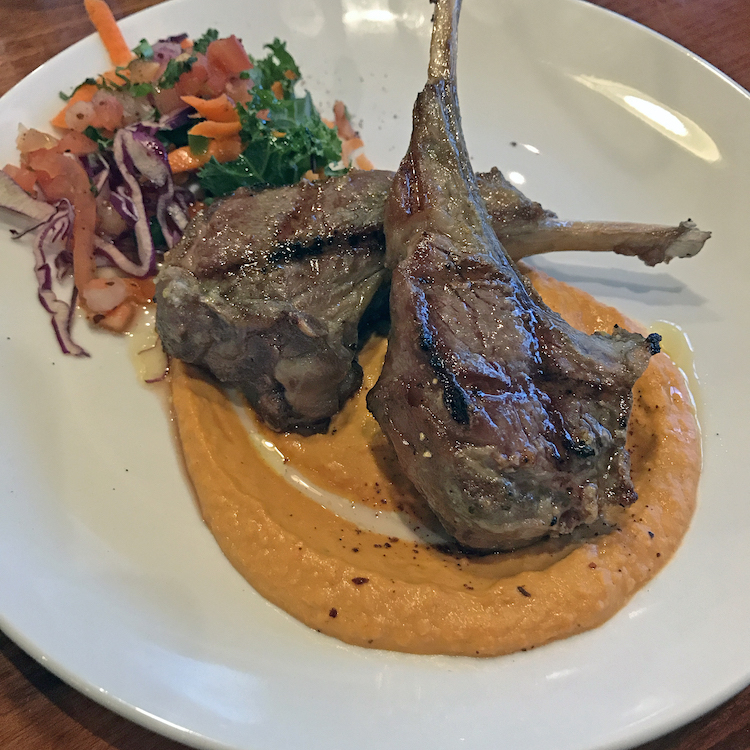 I want to find the culinary genius who invented small plates and give them a hug. Or at least go to Mojito and hug someone there for doing small plates so well.
I mean it now. What food trend of the past generation can you think of that represents such perfection? Not only can make a light, affordable meal out of a small plate or two, but when you're nursing more of an appetite - or dining with a group of friends - you can load the table with a dozen small plates and take a bite from one, a taste from another, a sample from each.
I can't imagine a better way to try a lot of goodies without either breaking the bank or inflating yourself to the size of a rhinoceros. Small plates are good, and that's why lots of hip local eateries provide them. Dim sum, sushi, hors d'oeuvres, smörgåsbord, rijsttafel - how I wish we had a rijsttafel! But tapas might be my favorite.
I find it particularly hard to say no to a tapa - or a half-dozen. These are comestibles that we might eat in full portions on large plates, so there is a certain shock of discovery when we see undersize versions spread out on the table and realize that yes, we can eat all the food without looking like gluttons, at least not too much.
If you want tapas, it's hard to think of a better local destination than Mojito Tapas Restaurant. If your middle name is tapas, you'd better make them right, and Mojito does.
In fairness, Mojito gives the Spanish tapa a bit of a Cuban and Caribbean spin and some international touches, which seems fair, since it's co-owners were on the team that brought us Havana Rumba, the metro's most long-lived Cuban spot. (It should also be noted that the other half of that founding team, the Martinez family, turns out some worthy tapas not far from Mojito at Artesano Vino Tapas y Mas.) ...
Read the full review on LouisvilleHotBytes,
http://www.louisvillehotbytes.com/mojit ... e-improved
You'll also find this review in LEO Weekly's Food & Drink section today.
http://www.leoweekly.com/category/food-drink/
Mojito Tapas Restaurant
2231 Holiday Manor Center
425-0949
http://mojitotapas.com
https://facebook.com/MojitoTapasLouisville
https://instagram.com/mojitotapas
Robin Garr's rating: 88 points