Dining at Harvest is like eating at a farmers' market
LEO's Eats with Robin Garr
Harvest's smoked Marksbury Farm pork loin chop with red-eye gravy foam.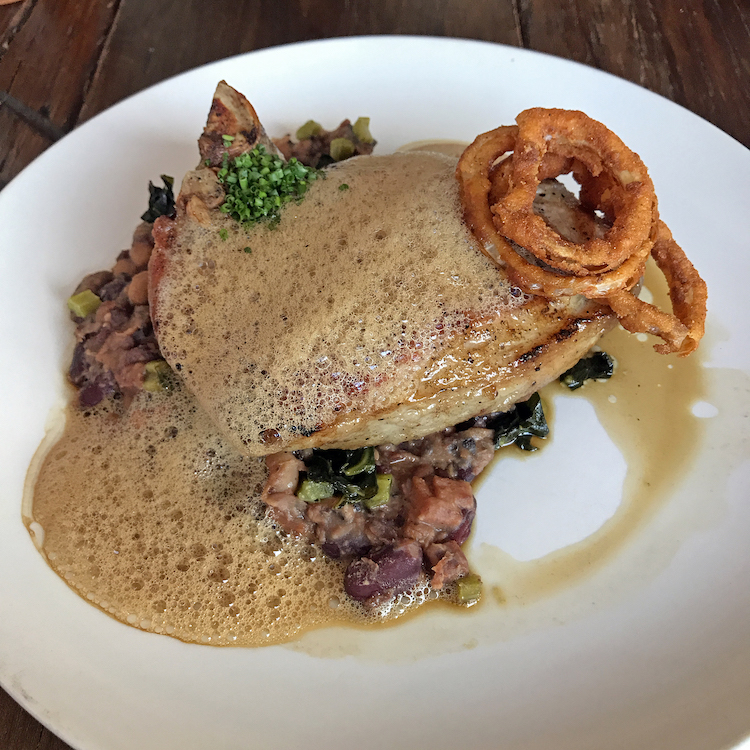 Who doesn't like to spend a summer Saturday morning browsing a farmers' market, loading up on fresh veggies, enjoying a breakfast burrito or a barbecue sandwich, listening to music and running into friends? That's what I love about Harvest Restaurant: It's like a big farmers' market that's open all year, with air-conditioning and table service!
So it's no surprise that Ivor Chodkowski, a longtime leader in Louisville's field-to-table movement and proprietor of farmers' market favorite Field Day Farms, was the mind behind six-year-old Harvest, a local destination that celebrates farm-fresh local food and the farmers who grow it.
Decor speaks of the farm, too, with rough-hewn wood tables and room dividers; side chairs are comfortable blond wood, and oversize portraits of local farmers adorn the walls. A large wall map of the region bears circles and arrows connecting each farmer with the location of his or her property. Tables along the walls have small farmhouse-style lamps for cozy illumination. Tables are set with good white napkins, assorted old-style flatware, and fancy stemless wine glasses.
A bar along one side of the room is equipped with a massive list of 150 bourbons and another 50 whiskeys and ryes from around the world, plus cocktails and well-chosen selections of beer and wine too. We enjoyed a light, hoppy Founder's All Day IPA ($4) and a "Berry Patch" cocktail ($10), a smooth and seductive blend of Rain vodka with strawberry-rhubarb and lime juices and basil syrup
I've admired Harvest since the very start, but I have to say that the arrival late in 2015 of Executive Chef Patrick Roney from his post as chef de cuisine at The Oakroom has taken Harvest to the next level. After a near-flawless dinner the other night, I'm not shy about declaring the food at Harvest on par with the city's top tables. ...
Read the full review on LouisvilleHotBytes,
http://www.louisvillehotbytes.com/dinin ... ers-market
You'll also find this review in LEO Weekly's Food & Drink section today.
http://www.leoweekly.com/category/food-drink/
Harvest Restaurant
624 E. Market St.
384-9090
http://harvestlouisville.com
https://facebook.com/HarvestLouisville
https://instagram.com/harvest502
Robin Garr's rating: 91 points