However you say it, Pho Cafe offers year-round delight
LEO's Eats with Robin Garr
Pho Bo, beef pho at Pho Cafe, thin-sliced beef served rare-pink as ordered.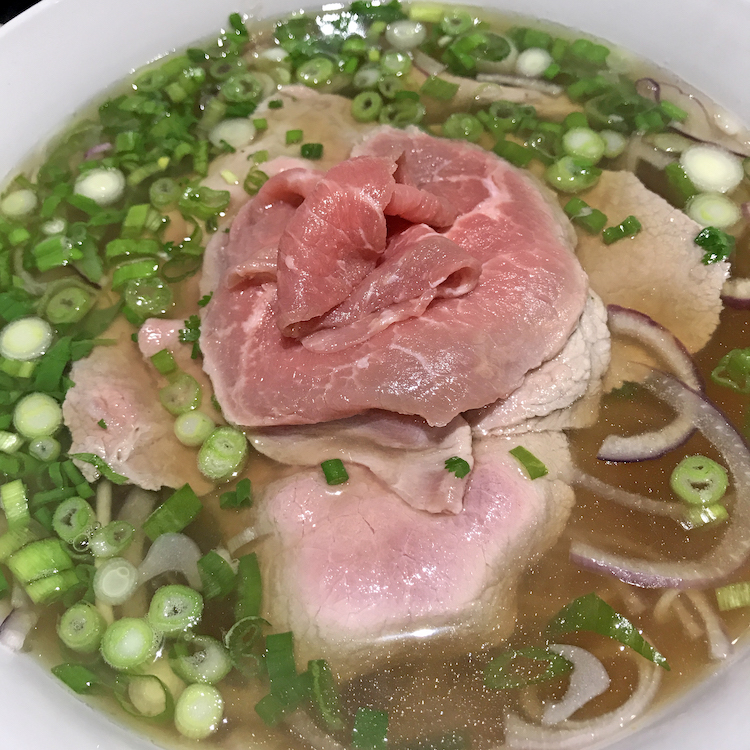 Mmm, it's in the '90s again. Wouldn't it be great to go get some steaming hot soup? How about a big bowl of pho from Pho Cafe!
No matter how much a hot bowl of creamy chowder says "winter" to you, think about the Vietnamese, and all the other nationalities that ring Asia's tropical southeastern edge, where hot soup is a main meal, people understand that hot soup cools you off.
The theory goes like this: You don't want to fill your innards with something cold when your outsides are hot. Too much contrast. Better to seek a zen-like balance, and if that makes you sweat, good: sweating makes you cool. That's why fiery food is commonplace in the same tropical places that love soup for dinner. Eat your soup, make it hot and spicy, break out in a sweat. Then catch a breeze, and aaah, that's cool.
So, with that settled, let's not wait until the leaves fall to go get some pho. If you want to say it the Vietnamese way, by the way, utter "fuh" to rhyme with "duh," not "foe" to rhyme with "dough." I'm pretty sure the nice folks at Pho Cafe won't mind either way, although they do pronounce it correctly when they answer the phone.
Pho Cafe opened at the end of May, replacing the last remaining local outlet of the Tom+Chee chain, in the short strip that's turning into a mini-restaurant row within Bardstown Road's larger restaurant row.
Bright tomato-soup-red booths and large black-and-white floor tiles retain a hint of its predecessor, but a quick remake with subtle off-white and dark-gray walls has brought a more upscale feel, and the kitchen area is now enclosed behind rippled frosted glass. Undraped dark-gray granite-look tables are set with simple flatware and chopsticks rolled in napkins; dishes are served on simple but attractive white earthenware.
Chef Tuan Phan and host Anderson Griffin have both been at Dish on Market, and Tuan Phan also has Asiatique on his resume. He's put together a Vietnamese menu that's a good bit more concise than, say, the 125 items on the bill of fare at the iconic Vietnam Kitchen, but Pho Cafe's shorter menu won't be unfamiliar to fans of Louisville's South End Vietnamese favorites. ...
Read the full review on LouisvilleHotBytes,
http://www.louisvillehotbytes.com/howev ... nd-delight
Read this review also in LEO Weekly today.
https://www.leoweekly.com/2017/08/howev ... d-delight/
Pho Cafe on Bardstown
1704 Bardstown Road
916-2129
http://phocafeonbardstown.com
https://facebook.com/phocafeonbardstown
Robin Garr's rating: 87 points