Quality and attention kick Butchertown Pizza Hall up a notch
LEO's Eats with Robin Garr
An oversize slice topped with house-made sausage and a couple of garlic knots at Butchertown Pizza Hall.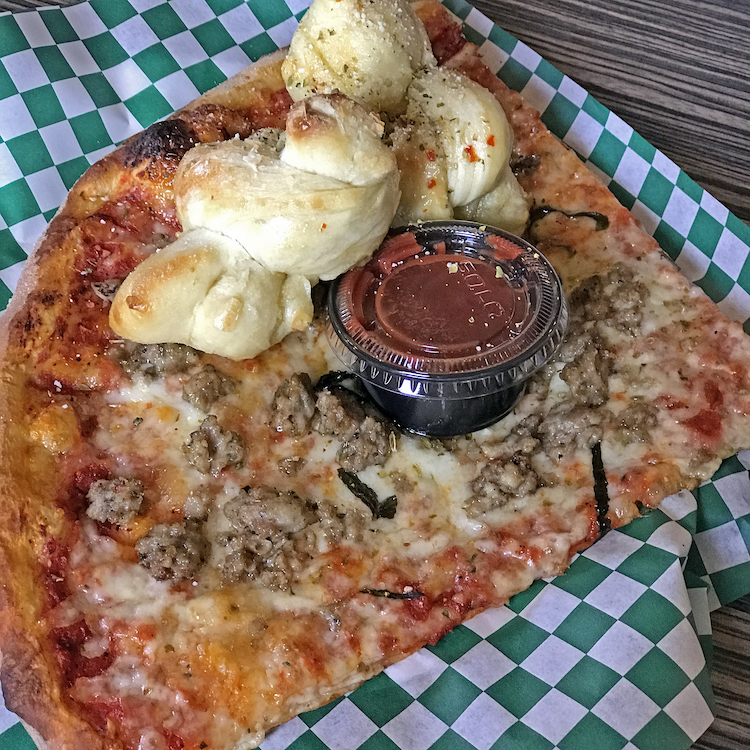 Haters gotta hate, but the pizza just keeps on coming. Some of my friends, for reasons that aren't entirely clear to me, go into a slow burn when another pizzeria opens in town. They sneer as they predict its imminent demise in an overloaded market. There are too many of them, they gripe. It just doesn't make good business sense, they judge.
I have heard no such whining about Butchertown Pizza Hall. Never is heard a discouraging word - this new spot has already vaulted into the top tier of local pie - and the pizza keeps coming all day, and far into the night.
We've been in to Chef Allan Rosenberg's new venue three times already, and for this pizzaphile, those visits won't be the last. I've never seen it when it isn't jammed with happy, hungry folks - a well-leavened mix of neighbors, hipsters, visitors, and workers on lunch break from the JBS Swift plant just down the street.
Speaking of the venue, it's located in the building that Hall's Cafeteria occupied for some 60 years; the sturdy red-brick floor remains from the prior tenant, but pretty much everything else has been cleared away. What remains, in the main front room, is a large space with beige walls, a couple of big-screen TVs tuned to sports and news; loosely regimented rows of wood-look tables and sturdy wood-and-metal chairs. We've found the air conditioning is usually cranked down to levels that might have preserved the Antarctic ice shelf, so dress accordingly. A cozy and inviting bar, under a galaxy of tiny lights, offers a mix of cheap and artisanal beers and a short but interesting liquor list.
Ordering at the counter is simple and casual, but it may take a while, as substantial variety confronts you with a lot of decisions. The $6.99 lunch special features a slice plus two toppings, two tasty garlic "knots" and a fountain drink, and then you've got 45 toppings to choose from.
Recognizing that good pizza in the Italian tradition is not about a casserole piled on top of forgettable dough but a one-dish treat that pays proper homage to bread, excellent tomato sauce in moderation, and appetizing toppings, Butchertown Pizza Hall treats your taste buds with pizza that's more than just a snack.
If you were a fan of Rosenberg's Papalino's pizza, you'll recognize the New York style of his pies - roughly formed yeasty, flavorful crust with puffy, browned edges that resemble good Italian bread, topped but not smothered with a variety of toppings sourced from local and regional farmers and artisan producers. ...
Read the full review on LouisvilleHotBytes,
http://www.louisvillehotbytes.com/quali ... hall-notch
You'll also find this review in LEO Weekly's Food & Drink section today.
http://www.leoweekly.com/category/food-drink/
Butchertown Pizza Hall
1301 Story Ave.
384-8528
https://facebook.com/butchertownpizzahall
Robin Garr's rating: 90 points