It's all about the wine, and great food too, at Cuvée Wine Table
LEO's Eats with Robin Garr
Cuvée Wine Table's Kentucky lamb sliders.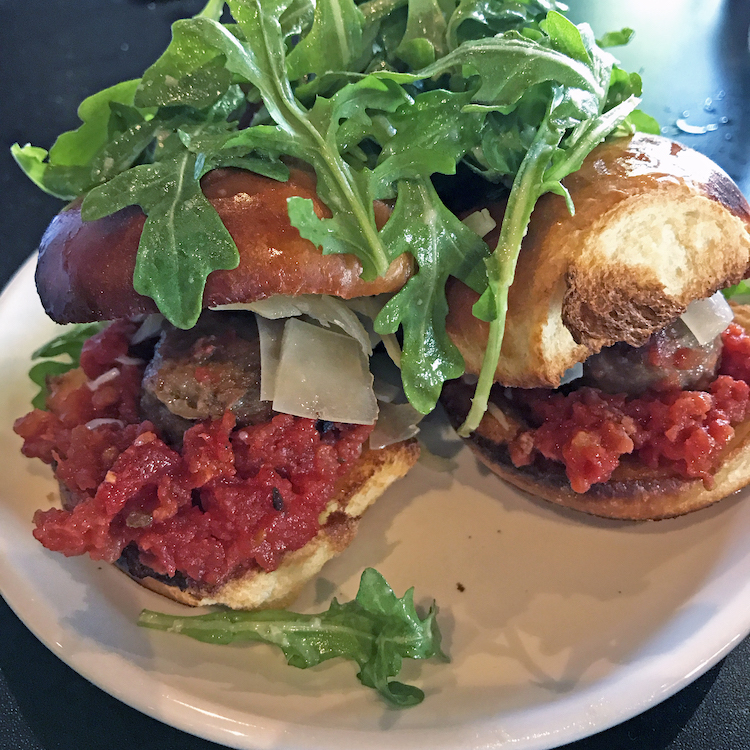 I'm a wine geek. Or you could call me a wine nerd. But please don't call me a snob.
Look, I've enjoyed wine since I was a teenager, Chianti diluted with 7Up with Italian-American friends in Brooklyn. Later I found out about this cool place called Napa Valley, where you could get free wine, a long time before most of you had probably heard of the place. I've been writing professionally about wine since around 1980, and have been lucky enough to visit wineries and judge wine competitions around the world.
But you'll never catch me taking this stuff too seriously, and you shouldn't, either. Wine is good, all right. It goes great with food, and in moderation it makes us feel good. It's a drink! It's a hobby! And yes, it's fun to learn things about wine, the people who make it, and the places it comes from. But getting to know these things doesn't give us any right to lord it over everyone else who doesn't know the difference between Burgundy and Bordeaux, and really doesn't care.
This is what I love about Cuvée Wine Table in Springhurst, Louisville's newest wine bar - um, make that wine-oriented restaurant - and arguably its best since L&N Wine Bar closed its doors after Derby 2012. Under the guiding hand of Master Sommelier Scott Harper, who has built the excellent wine-and-beverage program at Louisville's Bristol Bar & Grilles, Cuvée Wine Table offers a broad, interesting and very fairly priced selection of wine that should satisfy any wine geek, but you don't have to be a wine snob to enjoy it.
"We're ready for the person with no wine knowledge curious to learn and try new wines," the restaurant's web page assures us, "as well as the experienced wine connoisseur." Dang, there's that word again. The name "cuvée" is a bit geeky too, now that I think about it: It's the French word for the blend of grape varieties that makes up a specific wine. But the nerd stuff ends there. ...
Read the full review on LouisvilleHotBytes,
http://www.louisvillehotbytes.com/6186-2
You'll also find this review in LEO Weekly's Food & Drink section today.
http://www.leoweekly.com/category/food-drink/
Cuvée Wine Table
3598 Springhurst Blvd.
242-5200
http://cuveewinetable.com
https://facebook.com/cuveewinetable
https://instagram.com/cuveewinetable
Robin Garr's rating: 91 points