Foodies may happily graze at hiko-A-mon
LEO's Eats with Robin Garr
Hiko-A-Mon's grilled sanma, mackerel pike.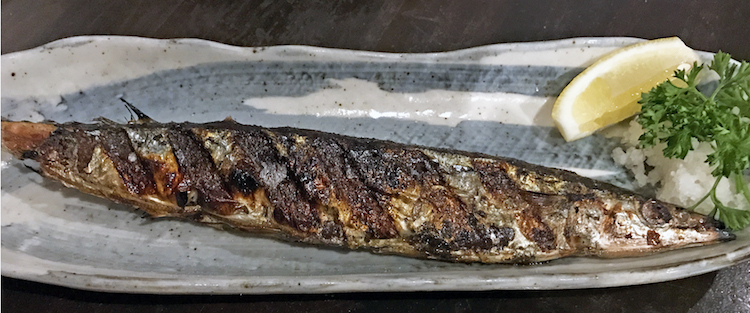 When I go to a Japanese restaurant, I generally love to pull right up to the sushi bar. I can hardly imagine a more immersive entry into the world of Japanese cuisine than sitting right across the tale from the sushi chefs, with the striking colors of beautiful fresh fish and other edible delights lined up in perfect rows between you.
You can ponder the options and point to your favorites, or invite the chef to offer a suggestion or clue you in to whatever is freshest and best on this day. Or, if you're bold, utter the magic word "
omekase
" (which is pronounced "Oh-meh-kah-say" and means, basically, "feed me, chef"), and sit back and wait for the surprises to emerge. This does require a touch of bravery, though, because if you didn't disclose preferences or even food taboos, you may wish you hadn't said that word as you gaze down on a jiggly wad of monkfish liver or whatnot.
Anyway, that's what I usually do. But when we found our way to hiko-A-mon in Westport Village the other night, I embarked on a different journey. Sure, hiko-A-mon has splendid sushi, featuring a couple of dozen bite-size nigiri sushi on rice balls, and maybe four dozen fancy maki rolls. Named after its Kyoto-born Chef Hiko, it's widely regarded as one of the city's finest sushi joints, perhaps No. 1 on any given day.
But I've been there and done that. So this time, we elected a different approach. Just as we had often done on a memorable visit to Japan some years back, we would graze through the menu, enjoying an array of apps, small plates and noodle dishes, enjoying all the diversity of a sushi dinner while venturing into a different culinary range.
We took our seats at one of the black-topped tables in the attractive, dimly lighted room with a slightly unnerving display of live fish - not, I hope, sushi-to-be - undulating gently in a large tank off to one side. Walls are painted bold solid colors, vermilion behind the sushi bar, gray-green along the side of the room, with odd but attractive decor that surprisingly resembled metal bundt pans and muffin tins.
Beyond the extensive sushi lists, the dinner menu takes some time to peruse with its five pages of tightly packed small print in English and Japanese. ...
Read the full review on LouisvilleHotBytes,
http://www.louisvillehotbytes.com/foodi ... e-hiko-mon
You'll also find this review in LEO Weekly's Food & Drink section today.
http://www.leoweekly.com/category/food-drink/
hiko-A-mon
Westport Village
1115 Herr Lane
365-1651
Open Table:
http://bit.ly/HikoAMonOT
Robin Garr's rating: 88 points
hiko-A-mon has another location downtown at 416 W. Muhammad Ali Blvd., 625-3090.