Street food in the South End: Á-Châu
LEO's Eats with Robin Garr
Càri Xanh, spicy green curry at Á-Châu.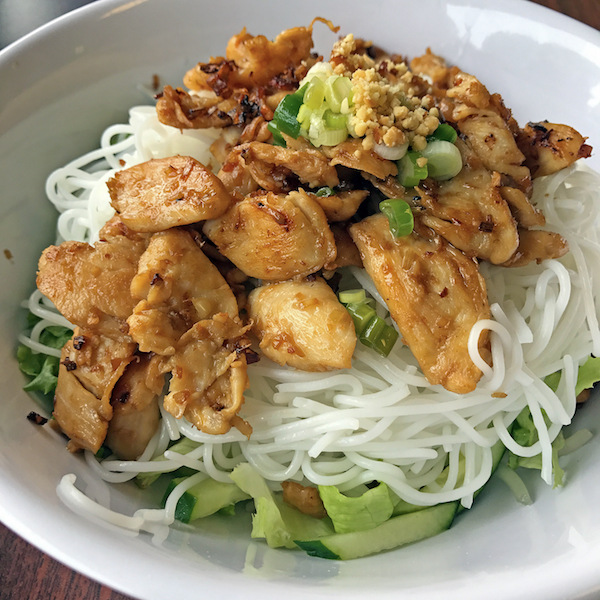 Who doesn't love street food? I sure do! Give me a corn dog, or maybe a big slice of New York City pizza that I can fold over and carry down the street, and I'm a happy boy.
So naturally I was delighted to discover a recent South End arrival, Á-Châu, which bears the magical words "Vietnamese Street Food" in big letters over the front door.
If you're visualizing portable Vietnamese food on sticks, though, you may be surprised to learn that big bowls of Asian noodles and even soup qualify as street food, too, even though you can't easily carry them around. In Vietnam, as in most of Asia, you buy street food from a booth or cart, pull up a table, sit down and enjoy.
Á-Châu, whose name is Vietnamese for "Asia" and pronounced "Ah Chow," opened last month in the former home of longtime Iroquois landmark Thornberry's Deli. It's a bright, simple remake of the beloved deli that used to be famous for its pies. Indeed, this line of succession may stand as metaphor from the South End's gradual evolution from blue-collar Anglo to one of the city's most diverse international communities.
The large, square room appears spacious with its bright-yellow walls, white floors and ceilings, with plenty of room for well separated wood-look tables and black dinette chairs, and a serving counter at the rear of the room. The only decor element is one big-screen TV tuned to a Vietnamese satellite channel. The language was a challenge, but the MTV-style music was international and appealing.
The menu features mostly Vietnamese dishes plus a taste of Thai, and it's easy accessible in both Vietnamese and English. ...
Á-Châu Restaurant
5103 S. Third Street
364-4262
Robin Garr's rating: 87 points
Read the full review on LouisvilleHotBytes,
http://www.louisvillehotbytes.com/stree ... h-end-chau
You'll also find this review in LEO Weekly's Food & Drink section today.
http://www.leoweekly.com/category/food-drink/