Las Gorditas adds a full restaurant, and we're glad.
LEO's Eats with Robin Garr
A sizzling gordita, the namesake item at Las Gorditas.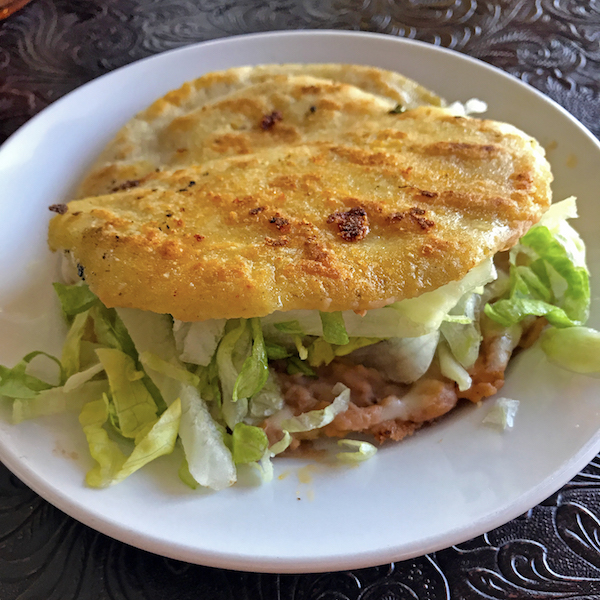 Is there any culture, anywhere, that does not delight in the joys of wrapping carbohydrates around protein or vegetables and eating it out of hand? From the humble sandwich to
empanada, kreplach
, pita and Asian
bao
, among many more, I can't think of any cuisine that doesn't boast some kind of portable meal like this.
Tacos have become so familiar north of the border that they seem just as all-American as, well, pizza or gyros. But some of the taco's heftier cousins might still need an introduction. The
arepa
, for example, the iconic dish of Colombia and Venezuela; the
pupusa
of El Salvador and Honduras; and then there's Mexico's lovable gordita, which translates roughly as "the little chubby one."
All three of these goodies are similar: cornmeal or
masa
dough is patted into a thick round, cooked on a hot skillet or griddle until it browns and puffs up, and then is split to make room for a variety of delicious fillings. We've met the arepa recently at Nahyla's Restaurant (
March 1, 2017
), and filled up on pupusas at La Guanaquita Restaurante (
Sept. 22, 2016
).
This week it's time to reacquaint ourselves with the gordita at an old favorite made new again: Las Gorditas, which has operated a popular food trailer in front of the Eastland Shopping Center on Bardstown Road for the past 10 years or so, has launched a full-service, bricks-and-mortar shop - also called Las Gorditas - a mile or so out the road in Fern Creek.
Fans of the gordita trailer will be pleased to know that it will continue in operation at Eastland on its usual Friday-through-Monday evening schedule. The new shop, however, stands prepared to serve your gordita needs - and other Mexican dishes, too - for lunch and dinner every day but Monday.
It takes a lot of work to run a restaurant and food trailer with a small crew, said owner Pat Costas, who runs Las Gorditas with his wife, Esperanza, and her sister, Ofelia Ortiz. But he says their growing fan base has been begging them to do it. (He also said they're looking hard for more good help. Looking for a job in the restaurant business with friendly folks? Give Pat a shout at the contact info below.) ...
Read the full review on LouisvilleHotBytes,
http://www.louisvillehotbytes.com/las-g ... urant-glad
You'll also find this review in LEO Weekly's Food & Drink section today.
http://www.leoweekly.com/category/food-drink/
Las Gorditas
8402 Hudson Lane
492-0112
Facebook:
http://bit.ly/LasGorditas
Robin Garr's rating: 86 points