Chik'n & Mi gives the noble bird an Asian spin
LEO's Eats with Robin Garr
Fried FreeBird Chicken Jeaw Bong at Chik'n & Mi.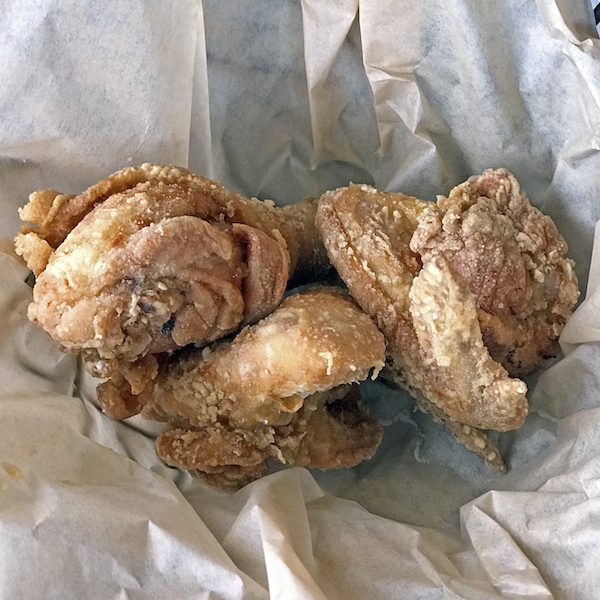 There's something lovably gritty about the stretch of urban Louisville along Lower Brownsboro Road in Clifton that some call "LowBrow," and we're okay with that. Take that well-worn restaurant building that sits up on the bank across from Kroger. Home to a dozen short-lived spots over the past couple of decades, it started life as a Pizza Hut sometime back in the '70s. You know the place: It's one of the city's most storied "restaurant graveyards."
But now a new arrival has upped the ante significantly with an attractive renovation - off-white walls and raw wood, with squadrons of antique-look lightbulbs overhead, bare-wood tables and wooden floors. The new arrival, Chik'n & Mi, remains as casual as the neighborhood but brings a powerful game that has been drawing crowds - and even gaining a mention in a where-to-eat-for-Derby Zagat review - since it opened late in March.
The owners, Culinary Institute of America graduate Jason McCollum, and his wife, Aenith, whom he met at CIA, are challenging the hegemony of Kentucky Southern-style fried chicken with an exotic twist: It's an Asian fried chicken and noodle shop, and it's a sophisticated bar offering beer, wine, bourbon, cocktails and a whole page of artisan sake.
The eclectic menu goes well beyond Asian chicken and Asian rice noodles ("mi" in Vietnamese). ...
Read the full review on LouisvilleHotBytes,
http://www.louisvillehotbytes.com/chikn ... asian-spin
You'll also find this review in LEO Weekly's Food & Drink section today.
http://www.leoweekly.com/category/food-drink/
Chik'n & Mi
2319 Brownsboro Road
890-5731
https://facebook.com/chiknandmi
http://instagram.com/chikn_and_mi
Robin Garr's rating: 83 points