Fork & Barrel's warm vibe surrounds fine, pricey fare
LEO's Eats with Robin Garr
Border Springs lamb chops and shank at Fork & Barrel.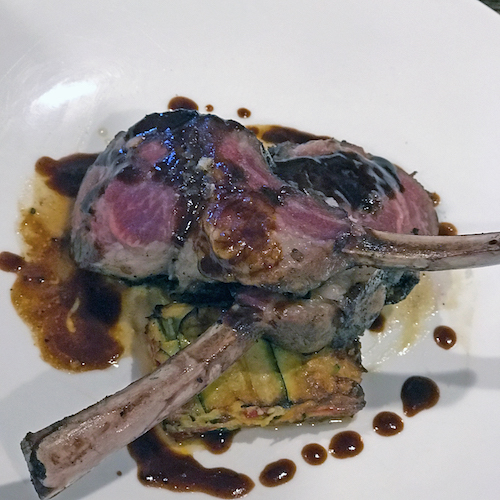 When a restaurant launches in the springtime in Louisville, the owner invariably faces a difficult decision: Rush to open the doors before Derby season? Or take it easy and get all your culinary ducks in a row before opening up more gently in the post-Derby calm?
The issues involved in this decision are not trivial. Opening in time for Derby may pay off, but it poses challenges, too. If things go poorly, the train wreck happens in front of a critical audience.
So, props to Fork & Barrel's owners, Chef Geoffrey Heyde and his wife, Emily, who risked opening on busy Frankfort Avenue just a few weeks before the race, following a quick but stylish remake of the space that had long housed Basa Modern Vietnamese.
Heyde brings a strong team to the task, though, both in the kitchen and front of the house, and the early buzz is good. So, Mary and our friends Anne and Don decided to drop by early enough to offer this review in time for Derby visitors and local folks, too.
Decor is simple, off-white walls with a few large photos of Louisville scenes. A long banquette lines one wall, and an attractive L-shape bar fills the back of the room. A huge table for 14, crafted from a single oak beam, affords community seating in a side room. Undraped wooden tables, heavy side chairs and hard floors makes for a noisy environment, which seems to be the norm for hip establishments these days.
Heyde describes the menu as "upscale American cuisine with a focus on local ingredients," and that seems about right, if we stipulate that America is a vast melting pot. In early interviews, spokespersons have described the price point as casual, not for special occasions, with an average tab around $30. Let's just say that either the target moved or we ordered way too much, as our party of four walked out happy but lighter in the wallet to the tune of $280 or so. This may help explain why the online menu does not show prices.
Still, I'll certainly come back, perhaps with plans to choose an app and a drink next time. The menu features eight entrees that range in price from $18 (for fried chicken roulade) to $39 (for lamb chops and shank). About a dozen apps, soups and salads fall in the $10 to $20 range. ...
Read the full review on LouisvilleHotBytes,
http://www.louisvillehotbytes.com/6054-2
You'll also find this review in LEO Weekly's Food & Drink section today.
http://www.leoweekly.com/category/food-drink/
Fork & Barrel
2244 Frankfort Ave.

907-3675
http://bethefork.com
https://facebook.com/bethefork
Robin Garr's rating: 86 points