Parlour offers a cozy oasis for bridge walkers and everyone
LEO's Eats with Robin Garr
Parlour's artichoke pesto pizza.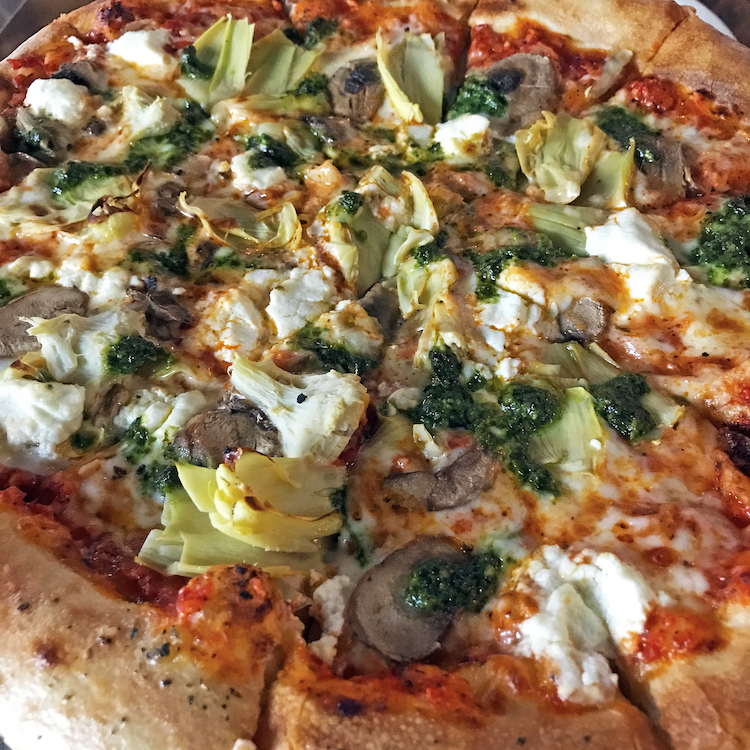 Have you strolled, jogged or biked across the Big Four walking bridge yet? Who hasn't? According to the Waterfront Development Corp., about 1,500,000 people enjoy the mile-long bridge between Louisville and Jeffersonville, Ind., every year. Reopening the abandoned, rusting 1895 railroad bridge as a linear public park has proven to be a great idea.
And now, thanks to another great idea, it's even better. Step off the Indiana end, and what to your wondering eyes should appear, directly across Jeffersonville's Pearl Street from the foot of the bridge ramp, but a beautifully restored, 181-year-old mansion and extensive gardens, now revealed as Parlour, an inviting pizzeria and beer garden.
Open since early this month in the historic Duffy-Hancock House and proudly recorded on the National Register of Historic Places, the stylish, two-story putty-and-white Georgian mansion had been a bed-and-breakfast in recent years.
Now its elegant rooms, fitted out in more casual style with sturdy wooden tables and chairs and, offbeat decor - gallon tomato sauce cans on shelves and a non-representational mural of bright red-and-white triangles on the walls - offer ample comfort for peckish bridge walkers and anyone else who finds their way over. (If you're driving, it's a quick jump off the first Jeffersonville exits on the tolled Lincoln and free George Rogers Clark bridges.)
Note well, though, that this is no mere industrial pizza and boring beer joint. Artisanal pizzas come sizzling from a fancy stone pizza oven, made in Italy, that burns stout Indiana white oak. Beers are carefully selected and pour fresh from 42 taps - 30 in the dining room and 12 more in the upstairs cocktail bar - reserved for quality brews in a good combination of local, craft American and imports, plus additional bottled beers. If beer's not your thing, don't worry, the folks behind the copper-topped bar are prepared to serve your cocktail needs.
The main dining room may have been the parlor in the original Duffy-Hancock home, but the added "u" in Parlour is not a British affectation but a conscious riff on the French "parle," "to speak," signaling management's wish that Parlour will find its place as a hangout where people don't just rush through but spend time, sipping and munching and carrying on conversation. ...
Read the full review on LouisvilleHotBytes,
http://www.louisvillehotbytes.com/parlo ... s-everyone
You'll also find this review in LEO Weekly's Food & Drink section today.
http://www.leoweekly.com/category/food-drink/
Parlour
131 W. Chestnut St.
Jeffersonville, Ind.
812-914-7400
http://eatparlourpizza.com
https://facebook.com/EatParlourPizza
Robin Garr's rating: 86 points