Grind Burger Kitchen: not cheap, but worth it
LEO's Eats with Robin Garr
The Southern burger with a side of "What the Kale" salad at Grind Burger Kitchen.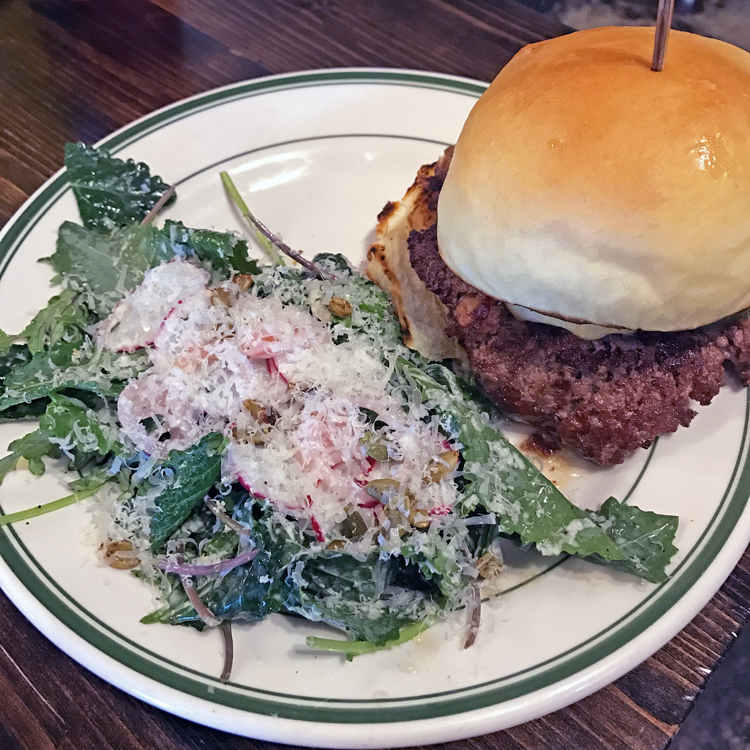 We all love hamburgers, don't we? During a thoroughly satisfying lunch at Grind Burger Kitchen the other day, I found myself thinking existentially about the burger. What exactly is a hamburger, anyway? The Oxford American Dictionary gives us the basics: "A round patty of ground beef, fried or grilled and typically served on a bun or roll and garnished with various condiments."
Okay, fine, that's a start, but let's pick at it a little: White Castle's beloved little burgers are square, not round. Does this disqualify them? I think not. Indeed, some of the best, most artisanal diner burgers, hand-formed in rough patties, are far from sufficiently round to satisfy a geometry teacher. Yet burgers don't get any better than this. Do burgers even need to be beef? Does a bison burger count? A tuna burger? Or even a veggie burger? Clearly, the definition of "hamburger" needs some work.
But enjoying a good hamburger requires no effort whatsoever, and happily for all burger lovers - which, as I said, includes just about everybody - Louisville is rich in excellent purveyors. On the basis of quality, I'm partial to Grind Burger Kitchen, delivers on quality with fresh burgers, hand-ground daily from regionally produced, hormone- and antibiotic-free, grass-fed beef.
Grind celebrates its fifth anniversary this month, and during that time owners Liz and Jesse Huot have built it from a food truck to spartan quarters in an out-of-the-way strip on Preston Street to its current digs in trendy NuLu, where it has become so popular that we had a hard time scoring a table at midday on a Tuesday.
Burgers range in price from $13 (for a burger with standard lettuce-and-tomato dressing and cheese, although you can ramp up the toll with a panoply of fancy fixins) to $15 (for the Old Fashioned burger with Capriole goat cheese, bacon and bourbon-scented Old Fashioned onions).
Tempting burger alternatives include a chopped chicken sandwich ($13), "adult grilled cheese" ($11), with Brie, Gruyère and caramelized onions on sourdough, or a Cuban Sandwich ($15) made with Kentucky ham, pork belly and Swiss. The full bar offers interesting wines, beers and cocktails plus a 50-selection Bourbon list that ought to qualify for the Urban Bourbon Trail.
Now, let's address one contentious issue right here: Some people diss Grind for daring to break the $10 barrier, whining that the mid-teens is pretty spendy for, well, a hamburger in a town where most local, sit-down burger joints price their wares safely in single digits.
Bear in mind, though, that Grind's burgers come with your choice of generously portioned sides that will set you back $4 each a la carte. Also, high-quality grass-fed beef isn't cheap in today's market. You get what you pay for, and at the end of the meal, Grind's pricing makes sense to me. ...
Read the full review on LouisvilleHotBytes,
http://www.louisvillehotbytes.com/grind ... heap-worth
You'll also find this review in LEO Weekly's Food & Drink section today.
http://www.leoweekly.com/category/food-drink/
Grind Burger Kitchen
829 E. Market St., Suite C
213-0277
http://grindburgerkitchen.com
https://facebook.com/grindburgerkitchen
Robin Garr's rating: 88 points