We celebrate and highly recommend the Indian joys of Tikka House
LEO's Eats with Robin Garr
Tikka House's dry curry of roast lamb with coconut.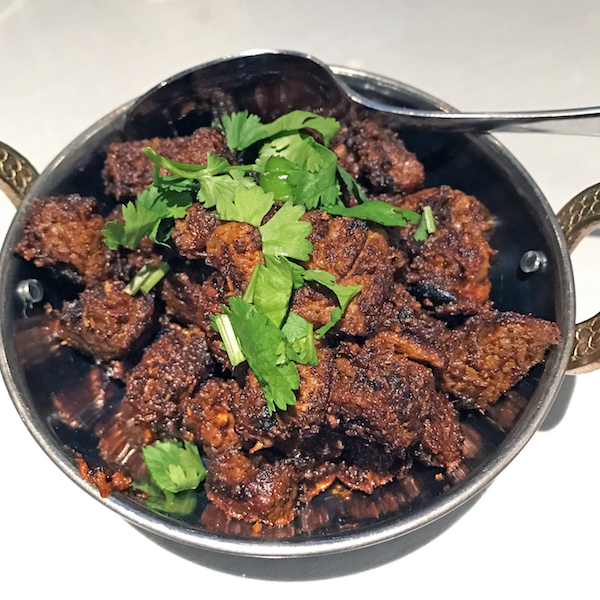 I'm pretty sure I have told you before that I love Indian food. Why do I love it? Let me count the ways: It brings bold, bright flavors, that may be as fiery as the gates of hell or as mild as a baby's kiss, whichever way you like it.
Indian fare draws on a remarkable range of ingredients. It is one of the few culinary traditions that treats carnivores and veggie-vores equally well, offering a vast selection of flavors both meatful and meat-free. Indian chefs are good with rice, but they're also great hands with bread, particularly delicious flatbreads seared in a fiery tandoori oven. And did I mention those bold, intense aromas that rise from each dish with the sinuous beauty of a snake-charmer's tune? I think I did.
So, I was sad to hear of the recent closing of Shandaar, a very good Indian eatery that may have struggled to reach critical mass in the far East End. But when one door closes, another opens, so I now celebrate - and highly recommend - Tikka House, recently arrived in the quarters that had long housed Majid's.
Since the closing of Sitar in the Highlands a few years ago, the metro has been struggling to hold its Indian restaurant census to 10, although this is a far cry from the days when we had to struggle to keep one, and local Indian-food lovers were forced to trek to Cincinnati for a fix during the periods of drought. By any measure, Tikka House's arrival is doubly welcome since there's been none in close reach for denizens of the Frankfort Avenue corridor from Clifton to St. Matthews.
Situated in the dining-room side of the old Majid's - the bar section has given way to a substantial expansion of Paul's Fruit Market next door - Tikka House has settled in without obvious change beyond Indian tchotchkes, but that's fine, as casual elegance and white tablecloths, quality flatware and china work just as well for upscale Indian as they did for upscale Persian fare.
Restaurateurs Shree Giri and Manish Shrestha, who say they boast nearly two decades of experience in "five-star restaurant dining," offer an extensive menu of Indian dishes that represent most corners of the Subcontinent, from the Himalayas and the arid North Indian Punjab through India's teeming cities to its tropical southern climes.
A daily lunch buffet ($10.99 from 11 a.m.-2:30 p.m. Monday-Friday and $11.99 from 11 a.m.-3 p.m. Saturday) offers a good, frequently changing selection that will offer you a quick introduction to the cuisine. (Check Tikka House's Facebook page to find out what's on.)
Then come back at dinner to sample a serious Indian repast, with more than 60 main-dish options available ...
Read the full review on LouisvilleHotBytes,
http://www.louisvillehotbytes.com/celeb ... ikka-house
You'll also find this review in LEO Weekly's Food & Drink section today.
http://www.leoweekly.com/category/food-drink/
Tikka House
3930 Chenoweth Square
749-4535
http://tikkahouselouisville.com
Facebook:
http://bit.ly/TikkaHouse
Robin Garr's rating: 88 points