Go west for meat-and-three at Irma Dee's
LEO's Eats with Robin Garr
Fried catfish with sides of sweet potatoes, greens and cabbage at Irma Dee's.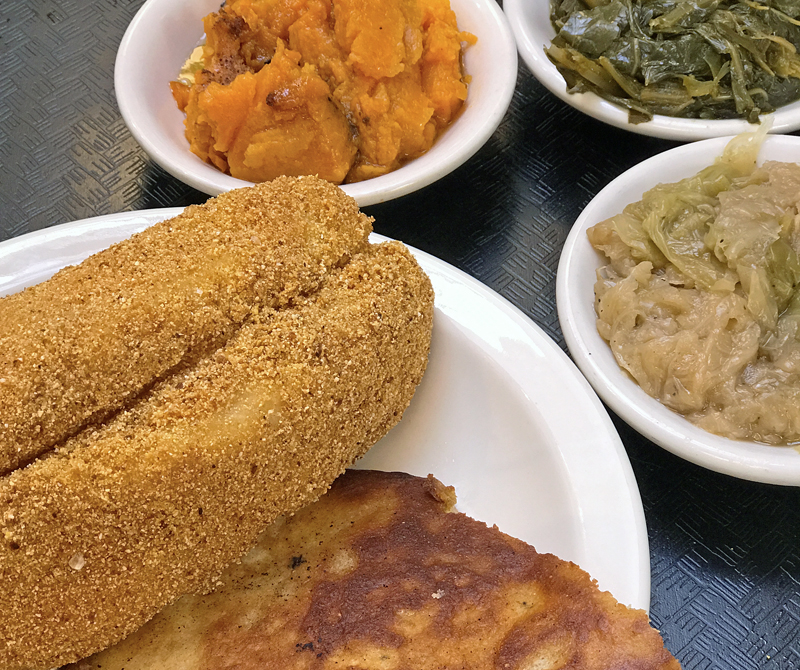 We've got a great idea to restore vibrant commerce to Louisville's West End, and it doesn't have anything to do with Walmart or a hip food park.
No, our plan is much simpler: We start by erasing that infamous and wholly imaginary wall along Ninth Street. We go to the West End. We make friends. Then we give our business to the local institutions that are already serving the community with pride.
I can't think of a better place to begin than Irma Dee's, a charming, bright little cafe that opened a few weeks ago on a main street in the city's Parkland neighborhood.
Serving hearty "meat-and-three" fare with a soul-food vibe, Irma Dee's opened last month on 28th Street between Oak and Dumesnil streets, which puts us in mind of the ancient Louisville story about the Irish cop who allegedly found a dead horse on Dumesnil but had to drag it over to Oak so he could spell his report.
We actually saw a friendly Louisville police officer in for lunch the other day, and a Metro council person, and a happy crowd of other hungry folks, too, all lining up to be served by Irma Dee's cordial, smiling staff in their trim black uniforms.
Before we move on, let's clear up one thing: A lot of us here in Louisville may not be familiar with the concept of "meat-and-three," a culinary form that's a bit more common further south. Memphis has plenty of meat-and-threes. So does Atlanta. Here, though, Irma Dee's and the similarly appetizing Shirley Mae's Cafe at 802 S. Clay St. in Smoketown are the only avatars of the genre that I know of.
So, what is this meat-and-three? The Local Palate website sings of it lyrically, lovingly describing the meat-and-three as a casual restaurant with a down-home, cafeteria-style vibe and unapologetically Southern fare, where you get one meat and three sides, in the form of vegetables, beans, or grains, biscuits, cornbread, or a roll.
Breakfast at Irma Dee's, which is served all day, starts at $1.99 (for a la carte sausage, bacon or grits). A dozen breakfast entrees, with two eggs, fried potatoes, grits, toast and jelly, range from $4.99 (with grilled chicken) to $10.99 (with a T-bone steak). Omelets and french toast are $2.99 to $7.99, and Irma's hearty "big breakfast," loaded with three eggs, bacon and sausage, is $7.99.
Twenty-one lunch and dinner entrees, served with two sides and bread, are mostly $9.99 for such varied treats as rib eye, salmon croquettes, catfish or cod, pork chops or pig's feet; a turkey rib, T-bone or rib tips will take you up to $10.99, and a feast of chitterlings, if you're so inclined, tops the menu at $11.99.
There's also a cheeseburger or chicken tenders with fries, and chicken wings from $3.49 for six pieces to $43.99 for a hundred pieces, enough for a party.' ...
Read the full review on LouisvilleHotBytes,
http://www.louisvillehotbytes.com/go-we ... -irma-dees
You'll also find this review in LEO Weekly's Food & Drink section today.
http://www.leoweekly.com/category/food-drink/
Irma Dee's
1213 S. 28th St.
632-2023
https://facebook.com/westdineincafe
Robin Garr's rating: 87 points