Arepas y mas! Nahyla's brings us Venezuelan delights
LEO's Eats with Robin Garr
A pabellon arepa stuffed with shredded beef, an iconic Venezuelan dish at Nahyla's.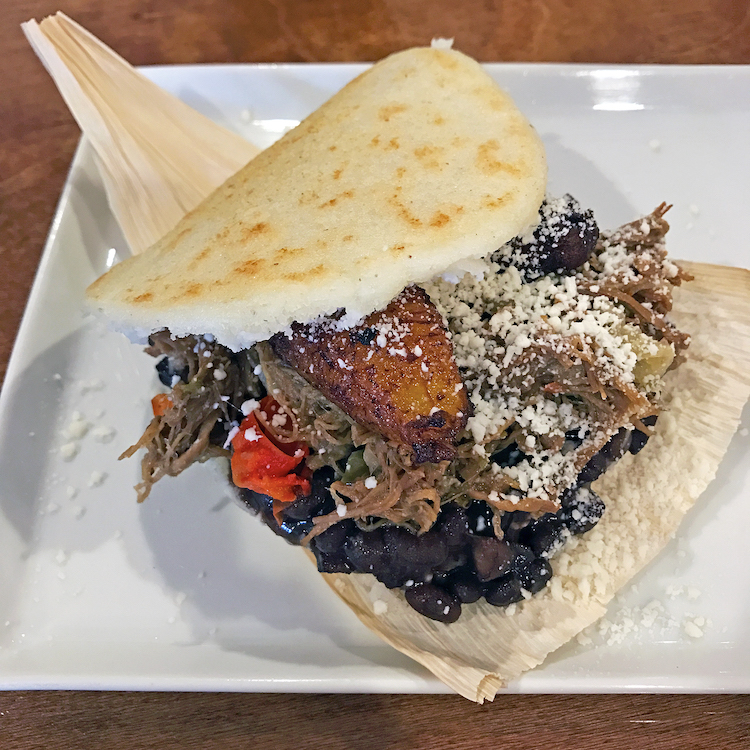 Our immigrant neighbors have taught us to love tacos. They've introduced us to gorditas, and roti, chapatis and naan, bao and banh mi and pitas and lavash and much, much more; and for all these carb-loaded delights we are much in their debt.
Now say hello to the Venezuelan arepa, yet another appealing way to enclose something good to eat within a tasty wrapper, a hand-held treat that long pre-dates the invention of Lord John Montagu, fourth Earl of Sandwich.
Call for an "Ah-ray-puh" in Americanized English of "Aaah-day-pah" if you want to give it a go in Spanish. Either way, you'll get a filling and delicious lunch at Nahyla's, the fetching new eatery in Middletown that is introducing Louisville to its first tastes of Venezuelan cuisine.
"It's like an English muffin," explained Enzo, our charming and helpful server and co-owner. Well, yeah, if we visualize a small but hearty English muffin made of white corn meal, something like a firm grits cake, split partway through and opened wide to load up with hearty fillings. This is ancient cuisine, tracing its roots back to the corn agriculture of Venezuela and Colombia long before the Europeans came.
Open since November in the renovated shopping-center storefront that had previously housed the short-lived pan-Caribbean Zialala Cafe, Nahyla's is attractive and well-kept, with abstract fabric art on off-white walls, attractive, sturdy wooden tables and chairs, and an oversize red, blue-and-yellow flag of Venezuela hanging in the back of the room.
The bilingual main menu features nine filled arepas, ranging in price from $6.99 (for granos con queso blanco, black beans with white cheese) to $9.99 (for pabellon, the iconic Venezuelan shredded beef). Two larger dinner entrees, pabellon criollo (shredded beef with beans and rice, a fried egg and plantains) and asado negro (dark-roasted eye of round) are both $14.99. Entree chicken and pork specials are added daily at dinner, and about a dozen appetizers, soups and salads are all under $7.
...
Read the full review on LouisvilleHotBytes,
http://www.louisvillehotbytes.com/arepa ... n-delights
You'll also find this review in LEO Weekly's Food & Drink section today.
http://www.leoweekly.com/category/food-drink/
Nahyla's Restaurant
Middletown Plaza Shopping Center
12220 Shelbyville Road
822-1808
http://nahyla.com
https://facebook.com/nahylasrestaurant
Robin Garr's rating: 89 points