Red Hog does meat the way meat ought to be done
LEO's Eats with Robin Garr
"Really F'ing Good" bacon-blue cheese smoked burger at Red Hog.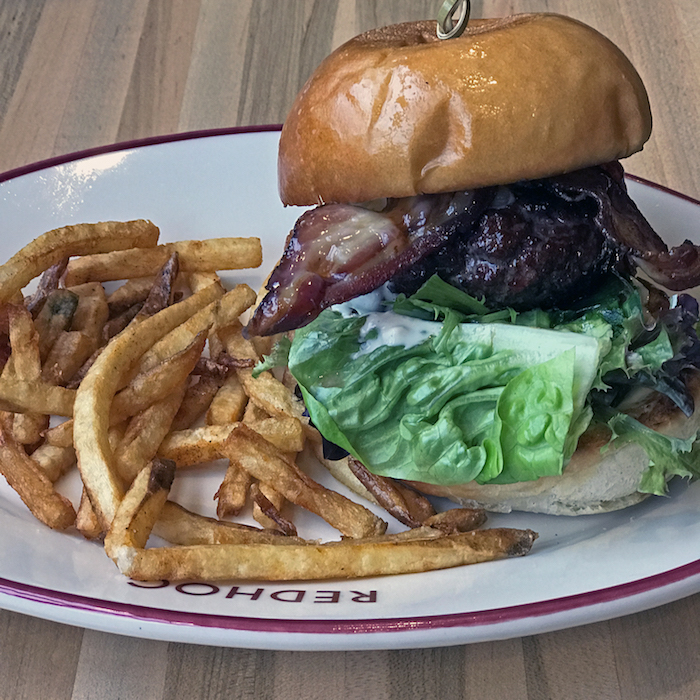 We've made it through January, Groundhog Day is tomorrow, but we've probably got six more weeks of winter regardless of what Punxsutawney Phil sees. bLet's face it: Winter is no fun. But one of the best things we can do to brighten the season is to settle down near a warm fireplace!
Some of my favorite restaurants boast comfortable fireplaces, too. I'm looking at you, Bistro 1860! And now I'm looking with deep and soul-satisfied appreciation at Red Hog, the newly arrived little artisanal butcher shop and small-plates eatery on Frankfort Avenue!
Okay, technically Red Hog doesn't have fireplaces in the usual sense. But you get a similar effect from its two roaring wood-burning ovens. One's purpose-built for pizza; the other serves Red Hog's other cooking needs, and both provide a comfy, warming glow.
Hancock and his wife, Kit Garrett, are no strangers to wood fires: They're the couple who gloriously brought us the city's unparalleled Blue Dog Bakery just a few blocks down the avenue nearly two decades ago. Blue Dog's fancy, Spanish-made brick wood-burning oven makes its loaves Louisville's favorite. And now Red Hog brings its own brand of primal fire.
Hancock's interest in locally grown, pastured meat goes back quite a way. He and Garrett have been raising heirloom swine on a farm near Louisville for years, and briefly opening a "Red Hog at Blue Dog" dinner operation within Blue Dog back in 2011.
Now they've gone full time, as Hancock, Garrett, and meat geeks Jay Denham and Duncan Paynter opened Red Hog's artisan butcher shop in September. The restaurant operation came a bit later, but it's going full blast now, filling all of its 50 seats nightly during its brief operating hours from 4-9 p.m. Thursdays, Fridays and Saturdays. (The bar is open until 11, with pizzas available until 10.)
The butcher shop, featuring "local, sustainable and humane" pork, beef, lamb, and poultry from local farms committed to sustainable, humane, and ethical farming practices, is open Tuesday-Friday from 11 a.m.-7 p.m., and Saturday from 9 a.m.-4 p.m. ...
Read the full review on LouisvilleHotBytes,
http://www.louisvillehotbytes.com/red-h ... -meat-done
This review also appears in LEO Weekly today.
http://www.leoweekly.com/2017/02/red-ho ... meat-done/
You'll also find this review in LEO Weekly's Food & Drink section today.
http://www.leoweekly.com/category/food-drink/
Red Hog
2622 Frankfort Ave.
384-0795
http://redhogartisanmeat.com
https://facebook.com/redhogbutcher
Robin Garr's rating: 91 points