Mashed potato pizza? Try it at Charlestown Pizza Co.

LEO's Eats with Robin Garr
The mashed potato pie at Charlestown Pizza Company.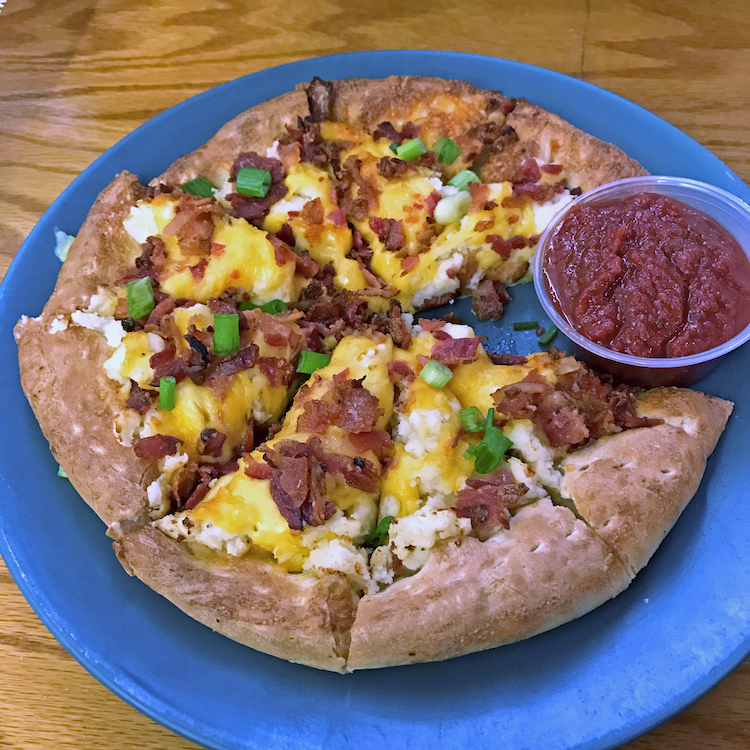 Yes, mashed-potato pizza is a thing, and it is comforting and delicious, and it has bacon, too. And it's just one of many fine pies and more at Charlestown Pizza Company.
I've remembered Charlestown Pizza fondly since my first visit there in 2007. It's the kind of place that I would like to visit often for its amiable combination of friendly, relaxed atmosphere and quality service and fare. But from my quarters off Frankfort Avenue, Charlestown seems farther away than the actual 20-mile trek via the downtown bridges.
That, perhaps, is why I deplorably let nearly 10 years slip away between visits. But hey! There's a new East End bridge now! That will make the journay a snap, right? So, eager to check out the Lewis & Clark for the first time. we leapt in the jalopy, headed northeast, and drove. And drove. And drove. A half-hour later we pulled up in front of the cozy pizzeria on Charlestown's Main Street, and wait! What the what? It's five miles longer this way!
This made no sense, but a closer look at Google Maps reveals the miles we wasted in a sprawling lazy Z, out to Prospect, back to Jeffersonville, and out to Charlestown. According to Google, it would have actually taken a couple of minutes less, although a mile or two more, to swing all the way over to the toll-free Sherman Minton Bridge to get there. Harrumph.
Never mind how we got there. I'm glad we did, and I don't think I'll wait as long next time. No matter which bridge you choose, you should go there soon. ...
Read the full review on LouisvilleHotBytes,
http://bit.ly/ctownpizza
You'll also find this review in LEO Weekly's Food & Drink section today.
http://www.leoweekly.com/category/food-drink/
Charlestown Pizza Company
850 Main St.
Charlestown, Ind.
(812) 256-2699
http://www.louisvillehotbytes.com/mashe ... n-pizza-co
Facebook:
http://bit.ly/ctownpizzaco
Robin Garr's rating: 85 points