Mirin, Hai!
LEO's Eats with Robin Garr
Mirin's shoyu ramen with roasted duck.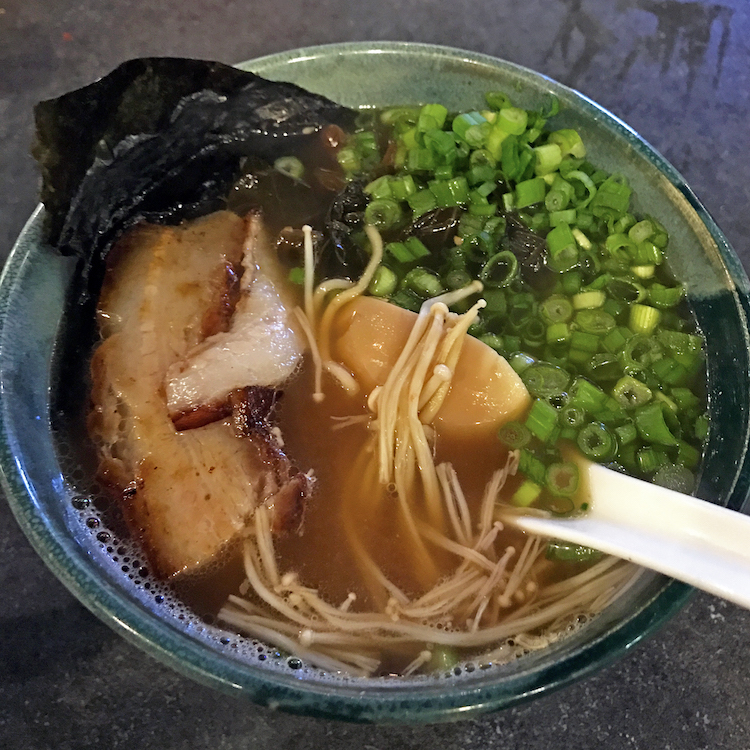 Did you ever wait in line at Rumplings? I sure did. And I hated it when that little ramen-and-dumpling place just off Bardstown Road went away after only seven months.
So here's good news: Griffin Paulin, one of the minds behind the original Rumplings team has opened Mirin, a new ramen-and-more shop on Frankfort Avenue in Clifton.
Paulin, who's ably assisted by Chef Michael Macinnes, insists that Mirin is not Rumplings 2.0. But it draws from the same deep well of intensely flavored broths, culinary passion and dogged attention to detail to bring us something that comes as close to authentic East Asian cuisine as we're likely to get in Louisville.
"From a personal standpoint, I'm far more focused here, Paulin said. "A better eye on the numbers. … That's not to take away from what we did there. I was proud of the food and proud of my team. This is a different thing. Some will say better, I just prefer different."
Okay, I can live with "different." I loved Rumplings and I'm loving Mirin, and I'm happy it's here. Housed in spartan quarters on the retail ground floor of a newish Clifton condo building - once home of Shiraz Mediterranean - Mirin is sharply focused on food, with no attempt at decor beyond the natural art of pots, pans and woks hanging over the open kitchen. Mirin should get a visual upgrade as it evolves, Paulin said. New stools are on the way, as are bamboo tops for the counters and tables.
The menu, painted on a wall board, is concise yet varied, and may change from time to time. Currently it features four Japanese-influenced ramen noodle items ($12 to $16); a pair of Vietnamese-style banh mi sandwiches ($8 and #9); three Chinese-style steamed bao buns ($2 to $3) and a handful of "other stuff" ($7 to $10), plus daily specials.
The liquor license is still pending but expected any day, Paulin says, all fingers crossed. Once the paperwork is signed, there'll be a 30-label sake list, regional draft beers, and a basic house red and white wine.
We've been through a good share of the menu already, and I'm eager to try the rest. ...
Read the full review on LouisvilleHotBytes,
http://www.louisvillehotbytes.com/mirin-hai
You'll also find this review in LEO Weekly's Food & Drink section today.
http://www.leoweekly.com/category/food-drink/
Mirin
2013 Frankfort Ave.
742-8923
Facebook:
http://bit.ly/mirin502
Robin Garr's rating: 92 points