Everybody

still

goes to Havana Rumba
LEO's Eats with Robin Garr
Lechon Asada at Havana Rumba.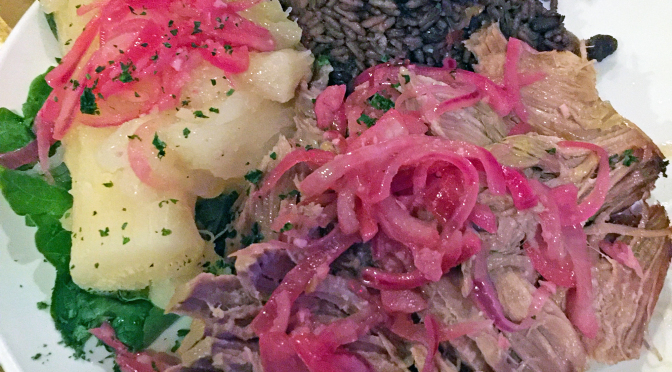 "Nobody goes there anymore. It's too crowded." Did Yogi Berra really say that? Baseball legend attributes this quotable quote to the late, great New York Yankees catcher; but bear in mind that Yogi is also recorded as having said, "I really didn't say everything I said."
It was like
déjà vu
all over again when we dropped in on Havana Rumba's original St. Matthews location the other night. I couldn't help but think of Yogi as our group crammed into a table set way too tight, in quarters packed with way too many happy, noisy people enjoying excellent Cuban food.
Everybody
still
goes to Havana Rumba, it seems, but to be honest, I was getting a little claustrophobic in those tight quarters, jammed in biceps-to-biceps with my dining partners on either side (fortunately, they were friends), and backed up tight against another stranger at an adjoining table.
It was loud. It was dark, dark enough that it was hard for these old eyes to make out the menu or identify with certainty what was on my plate. (Upon critical analysis, I'm pretty sure that the long table for our group of seven had been squeezed in between two original, more comfortably spaced rows, with the unfortunate side effect that none of the ceiling lights were there for us.)
This place is popular, and as the grandpappy of all of Louisville's current Cuban eateries, deservedly so. And rather than turn away hungry supplicants, it appears that management has made the canny decision to fit more paying customers into the same amount of space. It's a plan that may make sense ... unless diners start deciding that, you know, what Yogi said.
Still, it ain't over till it's over. Yogi said that, too. And at the end of the meal, when it really was over, our group left full and happy.
As a fan of some of the iconic Cuban eateries in Miami and Key West, I can be a tough judge, but Havana Rumba has always passed muster with me for Cuban authenticity. Comparing the menu against my October 2004 review, when it was the next big Cuban thing, it appears that they've stayed on course, still featuring Cuban favorites with prices adjusted only reasonably for inflation. ...
Read the full review on LouisvilleHotBytes,
http://www.louisvillehotbytes.com/?p=5524
See this column also in LEO Weekly:
http://www.leoweekly.com/2016/03/everyb ... ana-rumba/


Havana Rumba

4115 Oechsli Ave.
897-1959
havanarumbaonline.com
Robin Garr's rating: 85 points
Other locations: 12003 Shelbyville Road, Middletown, 244-5375; 2210 Bardstown Road, 749-4600.