8UP is stunning, but how about the food?
LEO's Eats with Robin Garr
The Orechiette at 8UP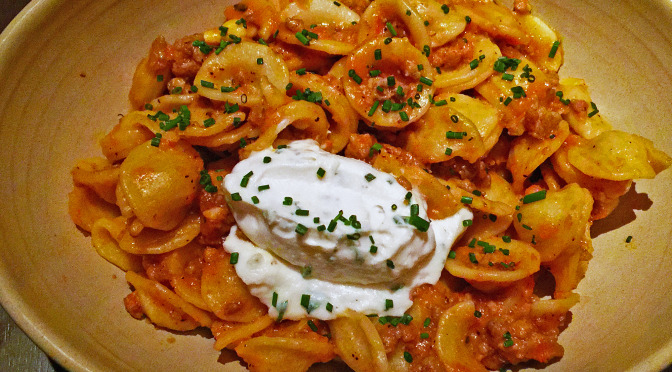 Even after many years of wisecracking about food, I have to doff my toque to Calvin Trillin, whose culinary scribblings in The New Yorker and elsewhere surely qualify him as the funniest food writer ever.
So, upon my recent visit to 8UP, the self-described "Elevated Drinkery and Kitchen" atop the new downtown
Hilton
Garden
Inn
, it was with great glee that I went a'Googling in search of my favorite Trillin quote about rooftop eateries.
Dang! I couldn't find it. Oh, sure, Calvin had plenty to say - and not much good - about rooftop restaurants. "I never eat in a restaurant that's over a hundred feet off the ground and won't stand still," for instance.
That's not the quote I wanted. The way I remember it, Trillin said, "The quality of restaurant fare is inversely proportional to the building-top view." But apparently he didn't say that, or if he did, Google missed it. Or maybe I made it up, in derivative homage to the master.
8UP, with its oversize outdoor patio jutting out over the street with a bright sign inviting passers-by to "Hang Up," is stunning in architecture and decor, a vast, multi-room complex walled in glass, with an oversize bar and dining rooms open to that rooftop view. I'd rank it among the city's most spectacular venues.
But let's be frank: You can't eat architecture, or a view. I think this is what Trillin is getting at with his snark on rooftop dining. The view may bring people in, but it takes great food and service to keep them coming back. How does 8UP stand up?
Well. It certainly wasn't
bad
. Much of our dinner was very good, but a few dishes were only so-so. Our server, David, was exceptional: cordial and professionally on-task without being intrusive.
For what it's worth, 8UP's general manager Len Stevens has left the building, and executive chef Russell Kook will blast off for Chicago later this month, so things might be a little shaky over there. ...
Read the full review on LouisvilleHotBytes,
http://www.louisvillehotbytes.com/?p=5198
And in LEO Weekly:
http://www.leoweekly.com/2015/02/8up-stunning-food/
8Up Elevated Drinkery and Kitchen
Hilton
Garden
Inn
Louisville Downtown
350 W. Chestnut St.
631-4180
http://8uplouisville.com
https://facebook.com/8UPLouisville
Robin Garr's rating: 84 points