Jet's Takes Off With Detroit-Style Pizza
Voice-Tribune review by Robin Garr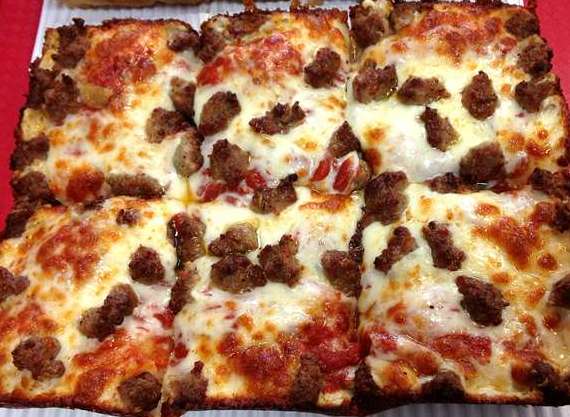 If there was ever any doubt that pizza has truly become an all-American treat, it was surely put to rest with Pizzagate this week, when New York City's new mayor Bill de Blasio provoked screams of outrage when he attacked a gooey pie at a Gotham pizzeria with – the horror – a knife and fork. "Blasphemy!
No one would ever do such a thing in Italy
," the angry hordes shrieked.
Actually, that's not really true.
In New York City, yes, pizza is mostly walking-around food, dispensed from street-corner shops where it's sold by the large slice, perched on a small white paper plate and, usually, a sheet of foil. It makes sense to pick it up by the crust, fold it lengthwise and start munching from the pointy end while you're on the go.
But in Italy, as any observant traveler knows, serious pizza is sit-down restaurant food, and the original
pizza margherita
, the signature pie of Naples with its Italian-flag colors of red sauce, white cheese and green basil, is too soupy to eat out of hand unless you plan to wear it. Knife and fork give it proper respect. Fingers are best reserved for street-food pizza.
So let's give de Blasio some slack. He's got enough on his plate with governing the Big Apple. Let him fork his pizza if he wants to.
The point here is that pizza is not snooty classical cuisine that must abide by rules set down by 19th century masters. It's one of the world's great comfort foods, and just about every community remakes it to its own delight. New Yorkers love that giant, foldable, hand-on slice. In New Haven they top it with clams. Philly loves cheesy pies, Chicago reveres the deep-dish "casserole," and St. Louis makes it weird with a square-cut pie topped with a bland yellow-and-white cheese blend called Provel. Even Louisville has a signature pie, the piled-high disk that Impellizzeri's, Wick's and Clifton's made famous.
Meanwhile, Detroit's pizza has gone almost without notice – until recently, that is. Loui Loui's Authentic Detroit Style Pizza attracted an instant following last year in the old Ferd Grisanti's space (10212 Taylorsville Road, 266-7599). Now Jet's, a Detroit suburban chain, has boomed into the region with four Louisville locations and more in Lexington and Northern Kentucky.
Read my full review on LouisvilleHotBytes.com:
http://www.louisvillehotbytes.com/jets- ... tyle-pizza
and in the Voice-Tribune:
http://www.voice-tribune.com/life-style ... yle-pizza/
Jet's Pizza
3624-A S. Hurstbourne Parkway
491-1700
http://jetspizza.com
Robin Garr's rating: 81 points
(Other locations: 101 S. Hubbards Lane, 895-4655; 235 Blankenbaker Parkway, 244-4440, and 6523 Bardstown Road, 239-0000.)