Vibrant Village Anchor Pub & Roost thrives in old Anchorage
LEO's Eats with Robin Garr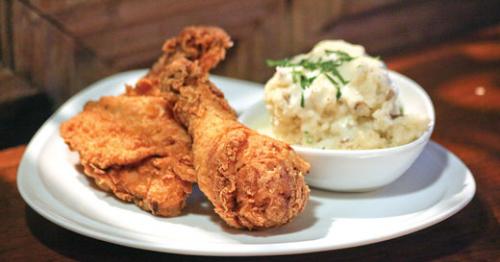 When Village Anchor Pub & Roost and its companion watering hole, The Sea Hag, opened three years ago this past summer, I thought they were pretty cool. But I wondered if they would stick.
They were bright, bold and edgy, featuring perhaps the city's best semi al fresco patio in the Anchor's Lanai and the kind of decor touches - Old Masters in rococo frames mounted on the ceiling! - that you'd expect a proprietor like Kevin Grainger, creator of "Got Milk" and the Nike "Swoosh" - to come up with.
They were capitalized, too, by "Papa" John Schnatter, who wrote the big checks required to dismantle, move and renovate the old Anchorage train station to a nearby hilltop to house the venture. This was a deal we assume Papa could arrange with the stroke of a gold Montblanc pen.
All this in the center of upper-crust Anchorage, a community known for shady lanes, expansive Victorian-era mansions, and post-card-worthy old village churches? Oh, yeah, and its own school system, independent of the metro public schools.
Was there any chance that a good-size bar and wacky gastropub-style eatery (along with the similarly appealing attractions of Anchorage Cafe in the same development) could fit in long-term to the buttoned-up environment of wealthy, conservative Anchorage?
I'm happy to report that my first return trip to the Pub & Roost after my initial visits in the summer of '10 found the place thriving, with plenty of local citizens relaxed, casual and apparently having a good time. The kitchen staff has remained stable, a good thing, with Executive Chef Geoff Heyde and Executive Sous Chef Oscar Maldonado still on board, joined by Sous Chef Patrick Gosden.
The outfit's Facebook page defines it now as "a lively Parisian Bistro greets the more traditional English Pub," which sounds interesting, although I don't see a whole lot of Paris here. Not that there's anything wrong with that, since I do see plenty of the kind of old-fashioned Kentucky cookery that some call "Southern," leavened, as it should be, with international touches from all over the world. Including, well,
French
fries.
Read the full review on LouisvilleHotBytes,
http://www.louisvillehotbytes.com/vibra ... -anchorage
And in LEO Weekly:
http://leoweekly.com/dining/vibrant-vil ... -anchorage
Village Anchor Pub & Roost
11507 Park Road
Anchorage
708-1850
http://Facebook.com/TheVillageAnchor