It's the rice, but not just the rice, at Taj Palace
LEO's Eats with Robin Garr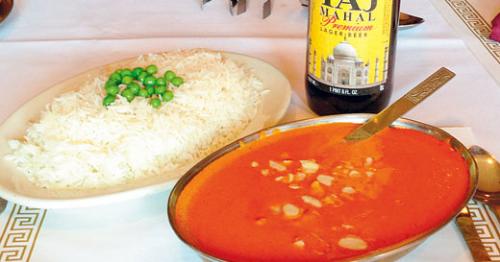 Little things mean a lot. Even something as little as a grain of rice can mean a lot. Of course, it takes 7,200 grains of rice to fill a cup, or so sayeth the Google, but that's not important right now. Let's talk about rice, and in particular the spectacular rice at Taj Palace.
Trust me on this, folks. I love Indian food, and I'm a fan of Taj, which has survived a journey around three East End locations. I go there fairly often. But the other night, sampling a bite of simple, extra-long-grain basmati rice from a side platter, I suddenly experienced what philosophers call an epiphany, a sudden, almost spiritual insight into the deeper meaning of things. Specifically, rice. And Taj Palace.
This is simple rice, almost plain. White, long grains, flecked with occasional bits of brown spice. Cinnamon maybe? Or clove? Its subtle yet commanding aromas didn't speak so much of exotic spices, though, as the ethereal floral, slightly nutty character of basmati rice, and maybe just a whiff of the Indian clarified butter called ghee. Each grain was separate, yet the rice was succulent, not dry. I bit into a single grain and found it firm yet yielding. This, friends, was perfect rice, and for a moment I thought I could probably just make my meal of it.
But then I saw all the other stuff on the menu.
Taj seems to be a neighborhood eatery for the Westport Road area, mostly, and when we dined there on a Saturday night, a lot more people were lining up for takeout than filling up tables in the cool, classy dining room (which once housed Seviche's short-lived suburban venture). Taj is generally packed at lunchtime, though, when a well-made, carefully tended Indian buffet is $8.99, and I'm as likely as not to be part of that crowd when I'm working out that way.
After our recent evening trip, I may head out there for dinner more often.
Read the full review on LouisvilleHotBytes,
http://www.louisvillehotbytes.com/its-t ... taj-palace
And in LEO Weekly:
http://leoweekly.com/dining/it%E2%80%99 ... taj-palace
Taj Palace Indian Restaurant
2929 Goose Creek Road
423-9692
tajpalacelouisville.com
Robin Garr's rating: 86 points