Equus evolves, but its character stays intact
LEO's Eats with Robin Garr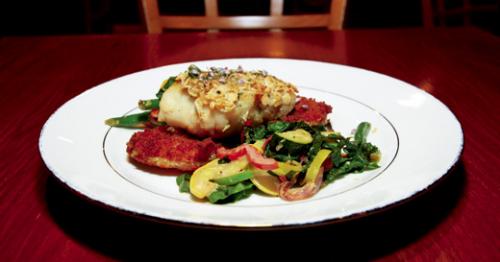 Few of us are eager to admit we're getting older. Every now and then, though, some sudden recognition of time's passing steps up and smacks us in the face with a solid reality check.
Take Equus, for example: A local destination restaurant that opened just a few years ago. Well, OK, OK, it opened in 1985, but who's counting? Not me, that's for sure. In some ways, after all, Equus never seems to change very much.
It remains in the original location, filling part of the first floor of a rather nondescript white-brick office building in St. Matthews. The owner and executive chef was, and remains, the venerable Dean Corbett, more venerable now than ever. And some of the trademark Equus dishes of those early days remain very much the same.
Perhaps most important, the essential vibe of the place has been consistent over the years, undergoing periodic alterations in decor and style but always remaining casually upscale, stylish if a bit clubby, but never stuffy.
As we settled in for dinner the other night, the defining word that struck me was "civilized." Even with an ample selection of tasty libations available via at least two welcoming bars and dining rooms, it's not the kind of place where you'd ever expect to hear angry voices raised or see a fight break out. Unless, perhaps, two desperate diners both wanted the last bowl of fumé in the house.
I had been eager to get back and see how the place has fared after its two previous side-by-side personas under Corbett's domain — the fancy Equus Restaurant and the casual Jack's Lounge — had merged into Equus & Jack's Lounge.
On my last visit three years ago, just after that merger, I had enjoyed the food as much as ever but felt a trifle skeptical about how this marriage between different personalities would work out long-term.
I probably shouldn't have worried.
Read the full reviews on LouisvilleHotBytes,
http://www.louisvillehotbytes.com/equus ... ays-intact
And in LEO Weekly:
http://leoweekly.com/dining/equus-evolv ... ays-intact
Equus & Jack's Lounge
122 Sears Ave.
897-9721
http://EquusRestaurant.com