I reviewed Mellow Mushroom for LEO Weekly back after it opened in late summer, but given its apparent popularity in the St. Matthews "zone," I figured it was worth taking another peek for The Voice-Tribune now that they've settled in.
It takes real bocconcini: Mellow Mushroom takes on the locals
Voice-Tribune review by Robin Garr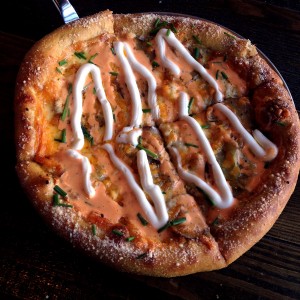 "Downtown" St. Matthews has come a long way, from the generation when it was best known for dark bars populated by portly gentlemen drinking cold beer, to the modern era that finds it chockablock with hipster bars populated by trendy young folks wearing skinny jeans and drinking specialty cocktails.
I won't even open the door to a discussion about whether this trend is beneficial or regrettable, although I'll suggest that this opinion lies largely in the eye of the beholder.
But one aspect, in my opinion, is all to the good: The state of pizza in this prewar suburb has never been better. I can count at least a half-dozen full-time pizzerias – most of them locally owned, artisanal independents – within crawling distance of the St. Matthews club zone's epicenter, and maybe a half-dozen more eateries that feature quality pie prominently on the menu. If the crowds that jam the burgeoning nightlife strip have a hankering for salty, cheesy, delicious pizza to lay down a base for adult beverages, they'll find plenty here to keep them happy.
It takes real
bocconcini
for a franchised pizza chain to come in and take the locals on head-to-head, but I have to say it: Mellow Mushroom puts up a pretty good fight. And the crowds that keep its spacious quarters filled up suggest that the 'shroom's siren song is working.
We dropped in around midday on a Sunday and had our choice of tables. An hour later, the place was crammed. I'm sure it was only a coincidence that alcohol sales begin at 1 p.m. on Sundays. ...
Read the full review on LouisvilleHotBytes.com:
http://www.louisvillehotbytes.com/it-ta ... the-locals
and in the Voice-Tribune:
http://www.voice-tribune.com/life-style ... izza-zone/
Mellow Mushroom – St. Matthews
3922 Shelbyville Road
409-6874
http://www.mellowmushroom.com/store/stmatthews
Mellow Mushroom – Middletown
805 Blankenbaker Parkway, Suite 105
244-6112
http://www.mellowmushroom.com/store/middletown