Simply Thai's Middletown shop trails the original
LEO's Eats with Robin Garr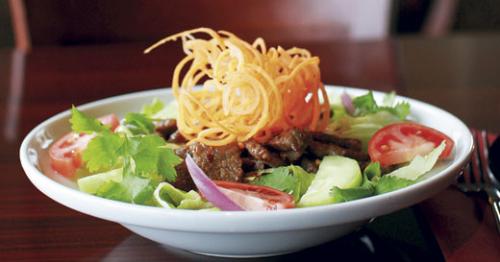 The sun shimmers like a brass gong in the pale, washed-out desert sky. There's not so much as a breath of cooling breeze. I can see a big cactus, but it's not much good for shade. Thirsty.
So
thirsty. The sun beats down, baking, burning.
And then my eyes pop open, doing the familiar where-am-I blink, and hey! I'm home! In bed! And I have
never
been so thirsty.
About four big glasses of cold water put that right, and soon I'm sinking back into a calmer sleep, thinking as I drift off, "I'll bet it was the pad Thai."
Or maybe the Nam Prik Ong lettuce wraps, or the Thai soups? Looking back on it as I tasted the leftovers from Simply Thai's Middletown branch the next day, I think there was a hefty dose of salt or soy sauce alongside the chile peppers in that happy endorphin-boosting burn.
I have long rated Simply Thai's St. Matthews operation among the city's best Thai eateries, and that opinion didn't change when I visited it again a few months ago. I've been delinquent about getting out to its year-old second venue in Middletown, though, so we finally ventured outside the Watterson the other night to check out its newer suburban branch.
Simply Thai No. 2 is located in a shopping-center space that, among other things, also housed the final incarnation of Mazzoni's and a short-lived Mexican spot. Its bright and inviting bar and dark wood tables feel comfortable in these digs, although they haven't painted over the Mexican-look decor, which creates a little cognitive dissonance.
The menu appears similar or identical at both venues, and the Thai fare at the Middletown branch isn't bad. But I have to come out and say it: Even if we let the salty-as-the-Sahara issue pass as a one-dish aberration, I can't rank this branch quite as highly as the home office in St. Matthews. A representative spread of dishes ranged downward from good-but-not-outstanding to "meh."
Read the full review on LouisvilleHotBytes,
http://www.louisvillehotbytes.com/simpl ... e-original
And in LEO Weekly:
http://leoweekly.com/dining/simply-thai ... s-original
Simply Thai
12003 Shelbyville Road, Ste. 101
690-8344
simplythaiky.com
Rating: 79