SuperChef's Builds Memorable Breakfast
Voice-Tribune review by Robin Garr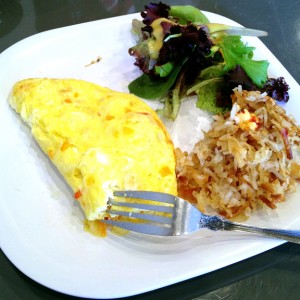 Every now and then you'll encounter an idea so simple, yet so brilliant, that you'll suck in your breath and think, "Wow! I wish I had thought of that!" And when such a bright idea concerns breakfast, it's hard to see how things could get any better than that.
So say hello to SuperChef's Breakfast, and a big tip of the old fedora to innovators Darnell Ferguson and Ryan Bryson, who came up with a creative way to jump from an award-winning culinary-school career to running their own restaurant, without all the capital expenses and costs and deal-making that such an entrepreneurial effort usually requires.
The secret is so simple that it makes you go "Whoa!" They've made a simple arrangement with two local eateries that didn't normally open until lunch time. The "SuperChefs" come in and open the doors for breakfast, cook delicious morning meals for happy diners, and then get themselves out of the way so their host restaurant operators can start lunch business as usual at midday.
They launched the first SuperChef's last summer, adding a morning shift to Chicago Gyros on Lower Brownsboro Road Wednesday through Saturday mornings and all day Sundays. More recently, they moved in, then participated in a remake and major expansion of the lunch counter at Seafood Connection in Chenoweth Square, where they do breakfast Wednesdays through Sundays.
No, they don't make gyros; nor do they do seafood. SuperChef's has its own distinct personality, and it shouts "Welcome happy morning!"
Read the full review on LouisvilleHotBytes.com:
http://www.louisvillehotbytes.com/super ... -breakfast
and in the Voice-Tribune:
http://www.voice-tribune.com/life-style ... eakfast-2/
SuperChef's Breakfast
http://superchefsbreakfast.com
In Chicago Gyros
2317 Brownsboro Road
895-3270
In Seafood Connection
3941 Chenoweth Square
899-5655