Delicious tofu takeout at Heart & Soy
Vietnamese rice-noodle salad is chock full of peanuts and flavored tofu bites, with fresh lettuce, carrot slices, and plenty of tender rice noodles underneath.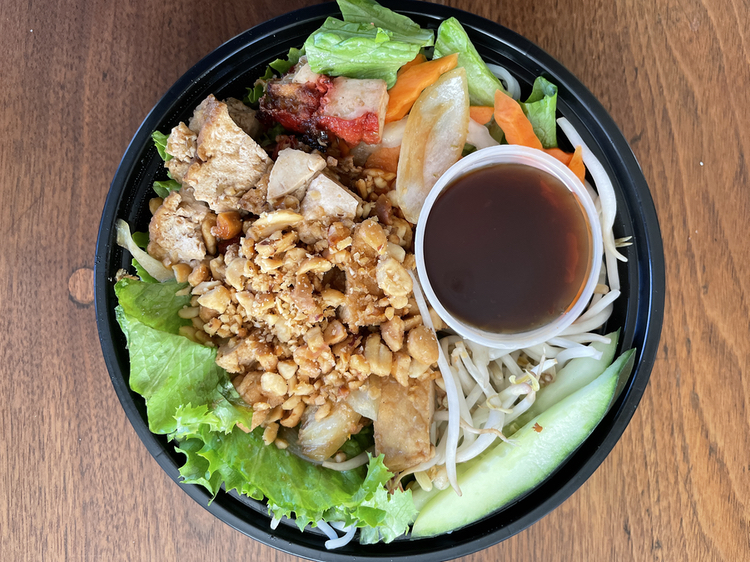 I'm pretty sure I unleashed a small rant last autumn when the Delta variant was coming on, threatening to retreat into takeout dining until things blew over a bit.
I didn't actually do that. I'm vaccinated, and now boosted too, so what, me worry?
But the other day, eyeing news reports about the Omicron variant and rising positivity tolls, I started thinking about takeout again.
Yeah, vaccinated and boosted. I said that. But it seems that breakthrough Omicron cases are rising, and even if healthy vaccinated people who catch this plague have symptoms only like the flu … hey! I had flu once. I don't want to go through that again.
So, don't get me wrong. I'll belly up to a restaurant table again soon. Takeout only works for me for eateries within 15 or 20 miles of my house. I can't keep it hot and fresh much longer than that.
So, I'm craving Vietnam Kitchen under its new second-generation ownership, for example, and takeout just won't do for a South End trip. Not to mention some New Albany spots that I've had my eye on.
For this week, though, triggered by thoughts of Vietnamese food, Heart & Soy popped into my mind. This little Highlands spot – partner at the same address to its more upscale sibling Roots – is good, it's affordable, and it's street food. By definition street food is comfortable fare made to carry around and stay delicious even after it cools off a little.
Just like that, there we were, properly masked in Heart & Soy's attractive dining room with its cool Zen mood, looking over its intriguing chalkboard menu. ...
Read the complete article on LouisvilleHotBytes,
http://www.louisvillehotbytes.com/tofu- ... -heart-soy
You'll also find this commentary in LEO Weekly online later this week.
http://www.leoweekly.com/category/food-drink/
Heart & Soy
1216 Bardstown Road
452-6678
http://heartandsoy.net
https://facebook.com/HeartAndSoyRoots
Noise Level:
The dining room was empty and soundless when we picked up our to-go lunch order.
Accessibility:
There are no steps at the entrance and restrooms, but wheelchair users will have to negotiate two heavy doors at the Bardstown Road entrance.