D. Nalley's owner gives an MBA's-eye view of the supply-chain roller-coaster
Gibin George, U of L MBA and owner/chef at D. Nalley's Diner, sat down to talk with us about supply chain and labor issues in the second year of the pandemic.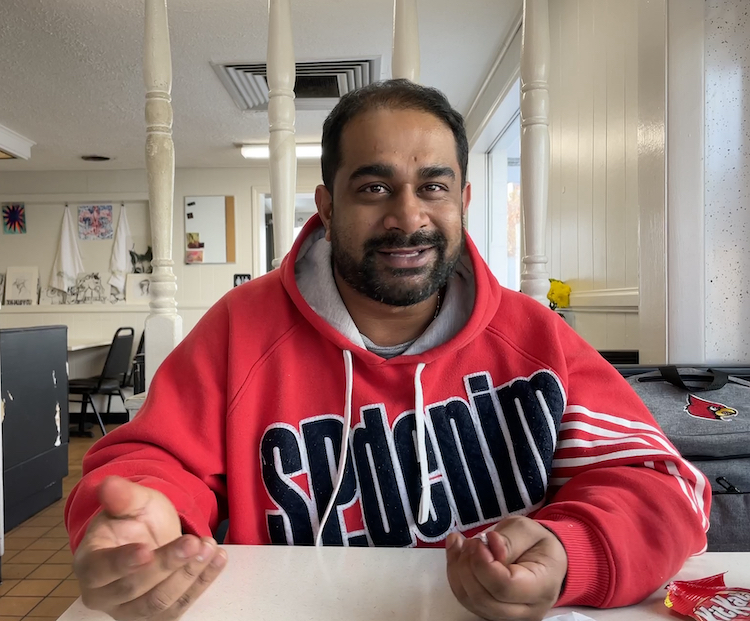 Imagine yourself as the owner and cook at a popular short-order diner. Suddenly you look around and discover that the price of your cooking oil has tripled, and you can't buy biscuits for love or money.
Those challenges make things tough when your customers are looking for breakfast all day and the many fried delights that make diner fare so delicious. And that's just the beginning, says Gibin George, owner and chef at D. Nalley's Diner.
"In the last few months," he said in an extended interview that started via email and continued face-to-face, "we have had several items that we regularly buy at major vendors like Restaurant Depot, Sysco, GFS not being available. The items vary from paper products like to-go boxes and wrapped straws to consumable products like onion rings and liquid eggs. They're out of stock on a lot of things."
He's not blaming his friends at the restaurant supply shops. "All these places are completely out. Restaurant Depot is close to us. I'm there every day. Their manager, Daniel, is trying hard. It's not his fault, but lack of employees and lack of product, and when it's gone, it's gone for weeks, and there's nothing we can do except look outside the box."
Supply issues have gotten so complicated, he added, that he's had to turn to Amazon Prime for several products. "We used to do the biscuits," he said. "We're an old-school American diner, with inexpensive food. But now chicken has doubled in price. A 35-pound container of cooking oil has gone from $15 to $45, and big 20-pound rolls of beef have increased four times."
George brings an unexpected set of management tools as a diner owner trying to thrive during a worldwide pandemic. Migrating with his family from New Delhi, India, in 2007, when he was just 17, he headed straight for U of L. He completed his bachelor's degree in business and then want on to complete his M.B.A. from U of L's graduate College of Business. He's such a big U of L fan that he has repainted the exterior of his building at 970 S. Third St. bright, bold Cardinal red and black.
That sounds like a pathway to corporate stardom or maybe hedge-fund management. But George went in a different direction: He set his sights on restaurant management when he fell into an opportunity at another long-running diner. ...
Read the complete article on LouisvilleHotBytes,
http://www.louisvillehotbytes.com/d-nalleys-owner-mba
You'll also find this commentary in LEO Weekly online later this week.
http://www.leoweekly.com/category/food-drink/
D. Nalley's
970 S. 3rd St.

618-2429
http://dnalleys.com
https://facebook.com/d.nalleysdiner